Zampiis a marketing suite that allows you to connect with your customers without spending hours every day. Now you can use a marketing system to track customer leads, send out email campaigns, and automate text messages.
When trying to run a business the last thing you want to do is spend hours on marketing. Zampi is a helpful tool so that you don't have to keep track of every redundant task. The daily processes that Zampi automates take care of themselves.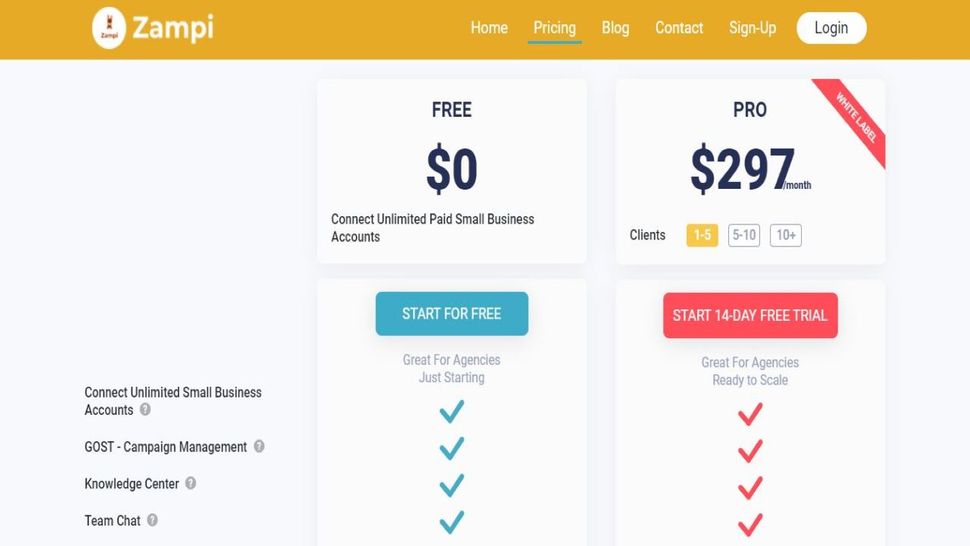 Pricing
The first time you visit the pricing page you will be presented with two main options: Marketing Agency Account or Small Business Account. You can decide which one best suits your needs. We will discuss that Marketing Agency Account Plans Which are the first on the site.
The first plan is called Free and lives up to its name. You can have an unlimited number of small business accounts associated with this plan for free. It also comes with a marketing campaign management system called GHOST. You can create your own personal campaign using built-in marketing tools.
Another bonus that is included in the free plan is the Knowledge Center. Get great marketing strategy tips from experts in the field. There are many helpful tools out there to grow your customer base, empower your customers, and reach more prospects.
The second option is called Per plan That costs $ 297.00 per month for up to five customers. There is a 14-day free trial that you can use to test if it is right for you. There's a whole list of extras, including a social media manager, SEO suite, call tracking and recording features, space to create your own learning management system, and SMS marketing.
If you need a professional platform for your new marketing strategy, the Pro plan is the best option.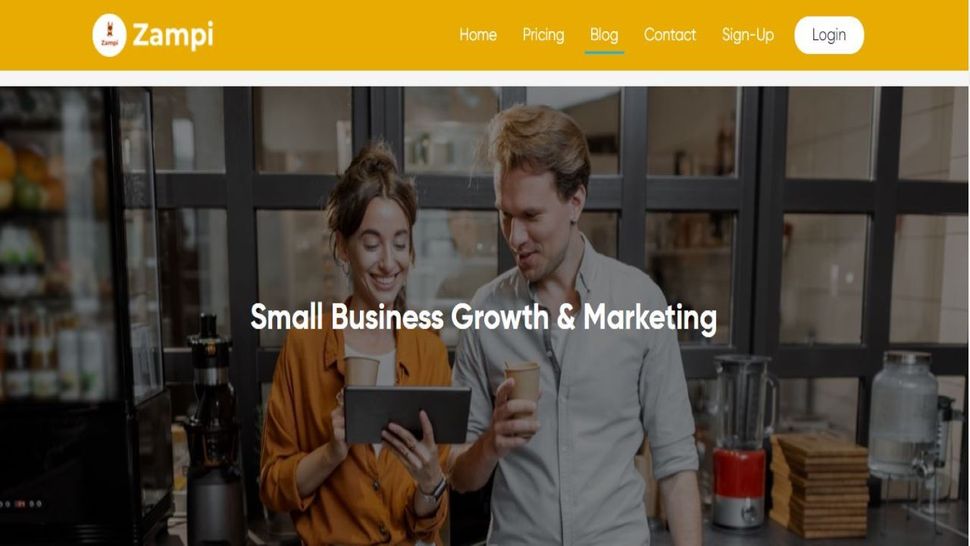 interface
It's really easy to find your way around the main Zampi website. The Blog tab is where you'll find posts related to small business owners. Scroll down the main home page and you will find a full list of features. It's also helpful how easy it is to find customer support if you have any questions. Just go to the Contact Us tab and you will find a forum to post your questions about Zampi.
The website is simple and even fun to navigate. The user interface looks clean and professional. The purpose of Zampi is obvious: you want to help your company improve its marketing strategy and customer relationship management while saving valuable time. You don't have to worry so much about day-to-day operations when Zampi can manage them for you. You also won't spend countless hours poking around the user interface trying to find more information when everything is so well organized.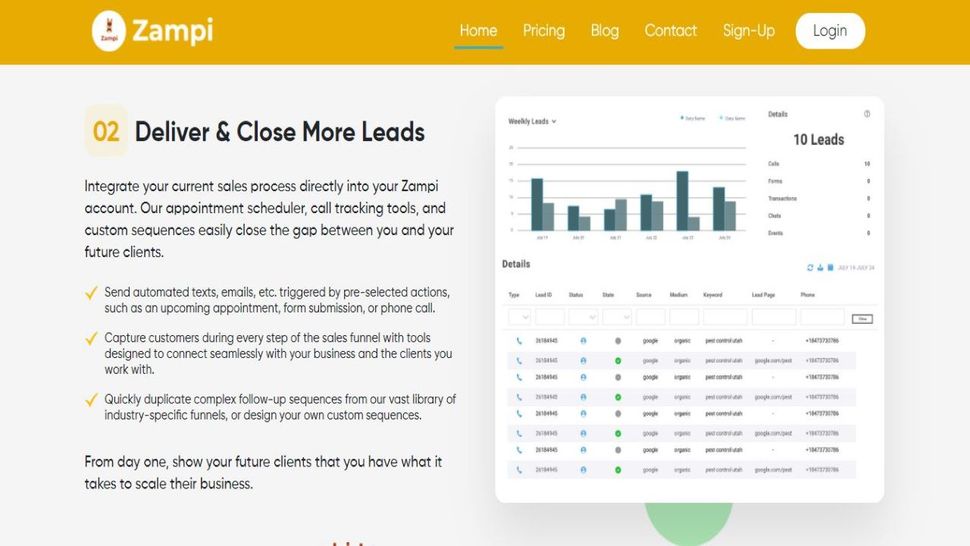 properties
Zampi has some great features including email automation, call tracking and recording, and social media management.
With email automation, you can automate certain emails (e.g. a monthly newsletter, marketing campaigns or a thank you email to customers). For example, if you want to send a specific email to every customer who buys a product on your website, Zampi can help you automate this. Now the email is sent automatically every time someone makes a purchase.
The call tracking and recording feature is a great way to build your customer base. Make a lot of business calls but can't keep track of phone numbers, messages, and follow-up leads? Zampi allows you to keep everything in one place so you can use it later. Sometimes organizing all of this new data that comes into your business is a task in itself. Now you have the help you need to build stronger customer relationships.
Social media management is another good feature. When it comes to posting on your company's social media pages, you are not up to date. Plus, you can access more in-depth analytics to see how fast your social media is growing. You and your team can keep track of what's working and what's not.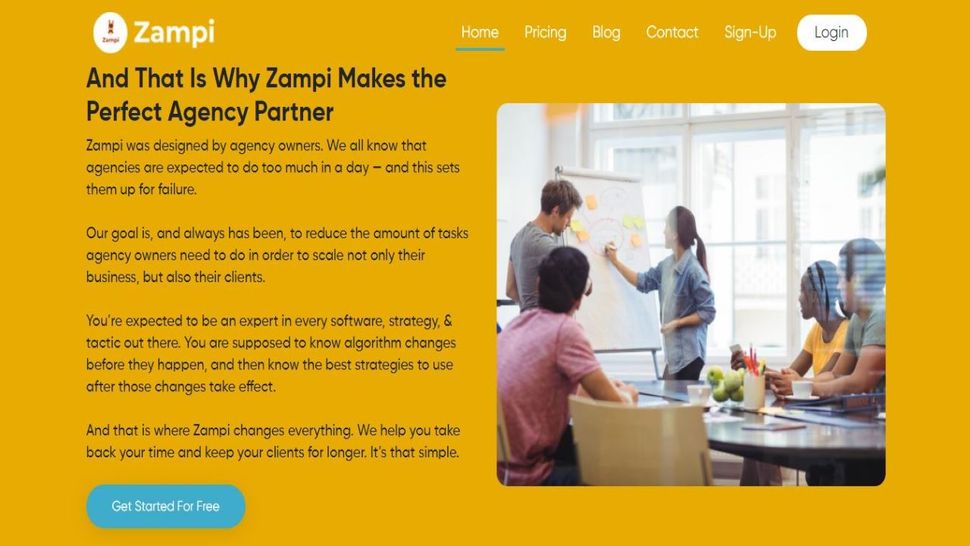 competition
There's a lot of competition when it comes to marketing suites (HubSpot, Zoho, and Zendesk are just a few). Not all CRM systems (Customer Relationship Management) support you in project management in your company. With Zampi, there is an entire area dedicated to the inner workings of your team, so you can keep track of internal documents that you may need. Another great aspect of Zampi is the free version and the 14 day free trial. You can use a simpler version of Zampi indefinitely for free or try the Pro plan for two weeks.
Final thoughts
Zampi is a great marketing suite that makes it easier to connect with customers and automate routine tasks. Now you don't have to forget to handle a dozen calls and emails for your company: Zampi keeps track of these tasks for you and sends automated texts and emails. You can save a lot of time using this marketing suite, not to mention getting the basic plan to use for free.
You might also want to check out our other marketing software reviews:
Source link : https://www.techradar.com/reviews/zampi-marketing-suite/