Yola is a website builder service that aims to get your business online presence in no time with no coding skills required. Best of all, one of the plans is free so you can check it out with no financial risk. So let's take a look at what's on offer.
You can't start this exploration without first setting up an account. However, at no point will you be asked to provide your credit card details or any other information. All Yola needs is an email address and password and you're good to go.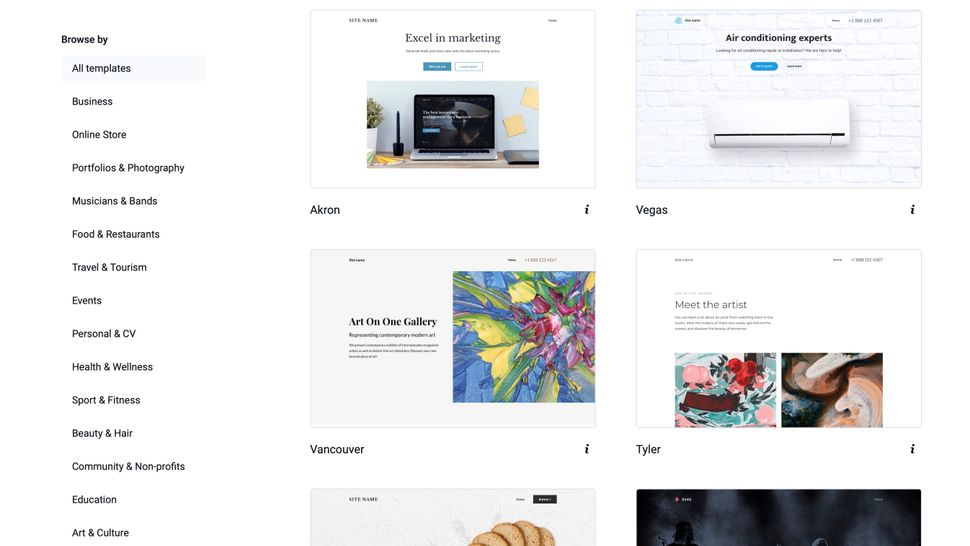 Started
The next step in creating a website is choosing a template. Yola has over 60 to choose from, divided into categories such as Business, Personal & CV and Landing Pages.
Customization is a two-step process that starts with the design and then moves on to the content of your website. However, you can easily bypass this first step and refer to it anytime during the build process.
Designing essentially involves choosing the colors, fonts, and animations of your site. You have a choice of over 60 color palettes, each with 5 coordinated colors. Fonts gives you pairs of complementary fonts from a long list of options, one for headings and the other for body text. Animations can be enabled on your website (they are disabled by default). After you've done this, you're ready to start working on your website's content.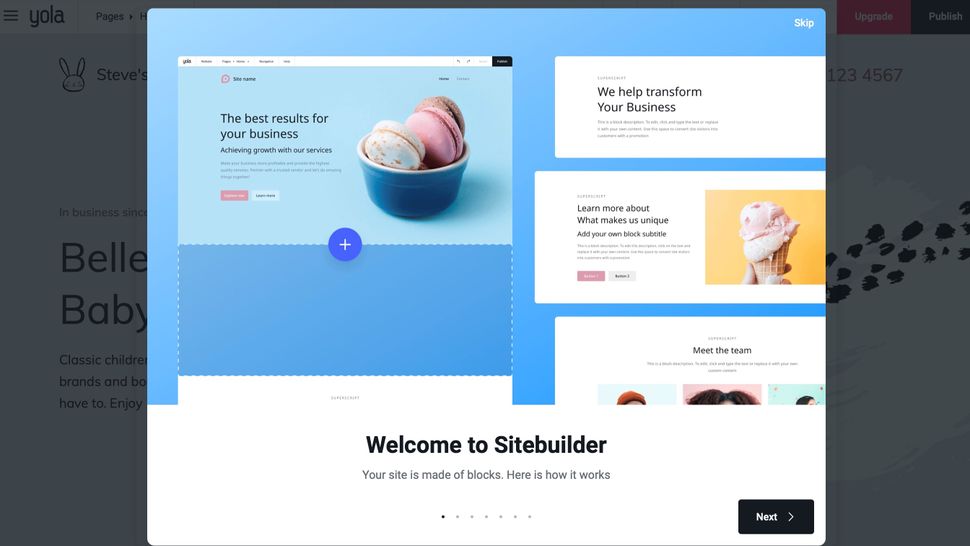 Page customization
Customizing pages is done by adding, removing, and changing blocks. There is a large gallery of them, all of which are conveniently divided into categories like Title, Testimonials, Video, and Gallery. You are given a large thumbnail for each one so you know what you are getting and where the various items are before adding them to your site.
Customizing within a block is very easy: if it comes to images, for example, click on the placeholder, select it and replace it with one of yours, or choose from an extensive library of artwork. You have basic editing tools like zooming, changing the intensity of the overlay, and adding a black and white effect. That's pretty much it.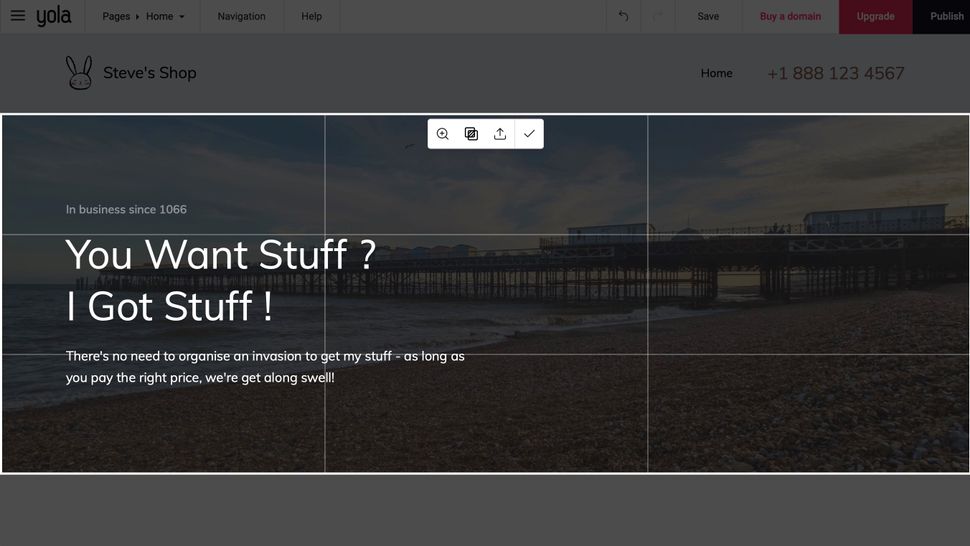 The contents of a text block can easily be changed: just click and drag to select the default text and write your own. Here you can restore the initial design options so that you can always change your mind and choose different colors and fonts across the site.
The block settings give you a little more customization options, e.g. B. the selection where in the block the text field is set, as well as the general appearance of the block. These options differ depending on the selected block.
A small online shop
Yola has an online shop that you can also set up with a free account. As you would expect, there are some limitations, such as: B. to be able to sell only three physical items. This function obviously lights up when choosing one of the other plans. One feature that we liked and which, surprisingly, is not standard on all online shop services, is the ability to upload your product list as a CSV file, which is a huge time saver.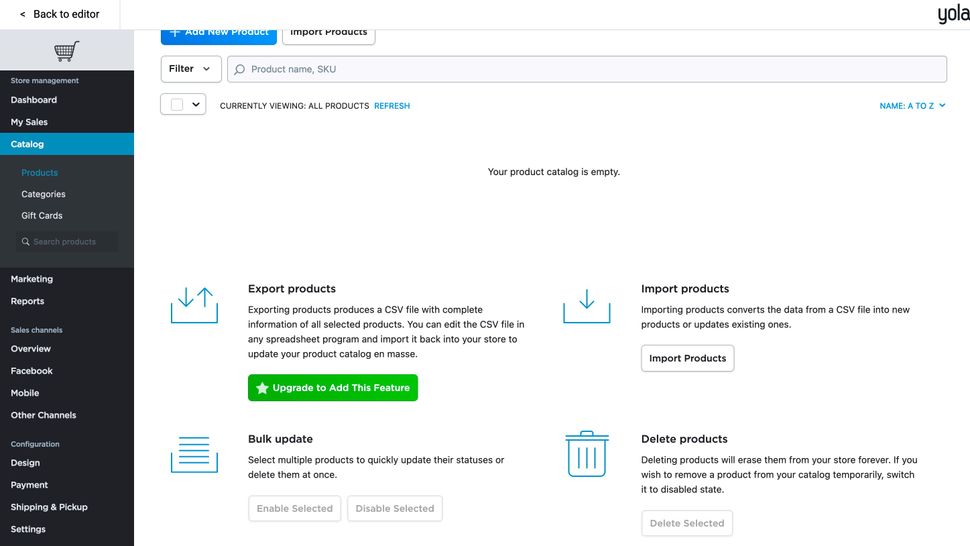 You can add different options and variations to your product, set shipping costs, get suggestions on how to improve your SEO ranking for each product, have a related products section and even a "Buy Now" button that lets you place information on a product anywhere on your website with a direct link to your business. Digital goods can be sold, but not with the free plan.
It's worth noting that for some reason that we couldn't fix, Yola's store page isn't working with Apple's Safari web browser but works as expected with Firefox.
When it comes to payment processing, you can join Square or PayPal or enable any type of manual payment (cash on delivery, bank transfers, orders, etc.). Various analysis options are available to you, e. B. Facebook Pixel, Pinterest Tag, Snapchat Pixel, Good Ads and of course Google Analytics.
Lack of blogging
While there aren't any blogging tools we could find, Yola seems more designed for simple informational sites that only have a handful of pages and whose goal is to showcase a company. There are even templates set up specifically for landing pages, and you can easily create an entire site with a number of different blocks on a single scrolling page. If you want to create multiple pages, Yola does a very good job of accommodating (but the free plan limits you to just two), and a navigation menu is automatically added at the top of each page so you and your visitors can easily switch between them.
plans
As you can see, the free option is pretty limited, but ideal if you're starting out and want a sleek yet simple online presence. The addition of a small business is definitely a welcome bonus.
Yola claims to offer a multilingual option with the free plan (You can switch between two languages ​​as long as you've manually translated the content beforehand.) This sounds like a very interesting and engaging option, but in our tests we weren't allowed to add another language unless we upgraded. The same thing happened in the online shop. Selling on Facebook is advertised as a free feature. In practice, however, it seems that you have to upgrade to take advantage of it.
However, all of these features are available to you if you opt for any of their other plans. The cheapest option is'bronze'. For $ 4.95 per month you can build 5 websites with up to 1,000 pages, work in 2 languages, and access website analytics. You can go up silver and gold for $ 11.95 and $ 23.95, respectively. This will remove any restrictions on the number of languages ​​you can work with, remove all Yola brands (we were surprised that 'Bronze' didn't), and provide site backups. Gold removes all storage restrictions and includes automatic SEO monitoring.
If you're looking to sell your merchandise online, options start at $ 12.50 per month and, as expected, features increase as you level up Professional and Unlimited ($ 29.17 and $ 82.50, respectively).
Every package comes with a 30-day money-back guarantee so you can test it in confidence. If you choose to pay annually, you get two months free.
Final verdict
If you are looking for a website builder that is easy to use and that will allow you to create a website with elegant templates in no time, Yola is definitely worth a look. It's easy, with some caveats, but the end results look good and effective.
The free option gives you enough features to get a good feel for what is on offer, and there is even enough to keep many emerging businesses happy without paying a dime. Being able to sell a few items is also a welcome addition if you want to dip your toe in the online retail marketplace.
Source link : https://www.techradar.com/reviews/yola/