A landing page is a stand-alone website that has been specially created for a marketing or advertising campaign. They are designed to guide visitors to a single call to action (CTA) after they click on an email or ad. Performing this action is known as a conversion. With a good landing page builder, you can guarantee a higher conversion rate for your business.
One of best landing page builder is out there Unbounce, used by companies such as Later, Helix and Zola. By using Unbounce to create, launch and optimize custom landing pages that fit your campaign, you can ensure more conversions and ultimately a higher return on investment (ROI).

Plans and Pricing
Unbounce has four main plans for businesses of all sizes. The biggest changes when you move these plans up will affect conversion and visitor limits, as well as the number of domains you can connect.
The cheapest Start plan ($ 72 / month) is suitable for small businesses expecting up to 500 conversions and up to 20,000 visitors per month on a connected domain. By doing Optimize plan ($ 108 / month) those estimates go up to 1,000 conversions, 30,000 visitors, and three domains.
You also get access to tools like Smart Traffic – an AI that directs users to your most relevant landing page based on visitor attributes. The Accelerate and Scale plans are aimed at larger companies and agencies dealing with multiple domains and / or campaigns.
The Accelerate plan ($ 180 / month) is aimed at businesses with up to 2,000 conversions and 40,000 visitors per month in seven domains. You also get the fast loading of AMP (Accelerate Mobile Pages) – great for making pages mobile-friendly.
The Scale plan ($ 270 / month) is suitable for businesses with up to 3,000 conversions and 50,000 visitors per month in 15 domains. This plan also gives you a lot of bandwidth to support these campaigns.
In addition, Unbounce has one Concierge plan is aimed at companies that are likely to exceed these numbers. It also offers personalized onboarding, training, and support, but is billed as needed.
All plans include unlimited landing pages (on your connected domains), popups and sticky bars and can be billed monthly or annually (you save 10% total) with a free 14-day trial.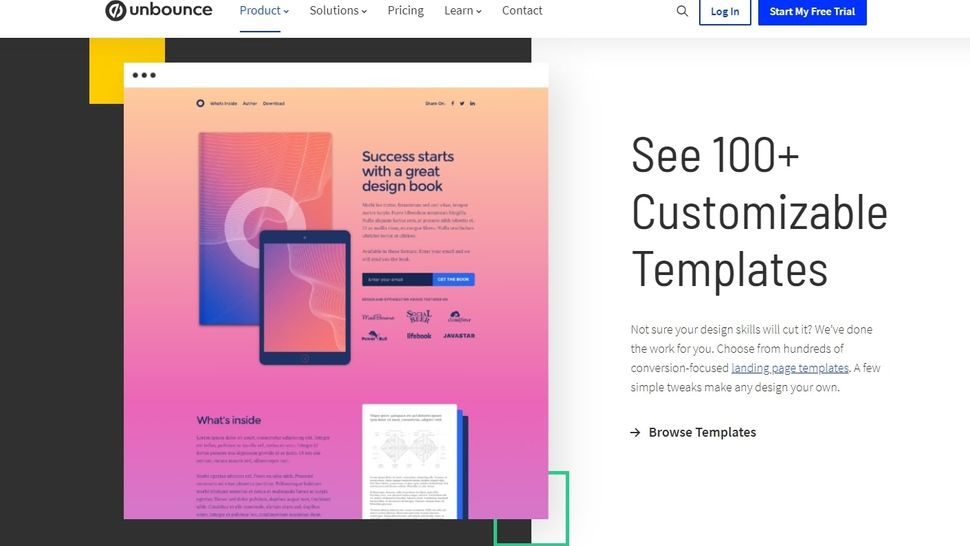 characteristics
One of the best features of Unbounce is it's ease of use. You don't need web design experience or a developer to start creating landing pages. You can customize 100+ easy-to-use templates to create the page that best suits your business.
In addition, the page migration feature means that your existing pages can be used as templates as if they were unbounce originals. Unbounce also provides access to 850,000 free-to-use images from Unsplash that are optimized (by balancing quality and file size) so as not to affect page speed.
You can publish your pages directly to your WordPress site or to a custom domain.
All Unbounce plans allow unlimited users and sub-accounts, so you can assign different levels of privilege to everyone on your team. You can also use audit logs and version histories to keep track of work and quickly roll back landing pages to previous iterations if necessary.
Unbounce has a variety of optimization features, including conversion intelligence and smart traffic. With these methods, Unbounce uses machine learning to match visitors with relevant landing pages and uses AI-derived insights so you can optimize your pages for higher conversion rates.
However, these features are not available in the cheapest launch plan.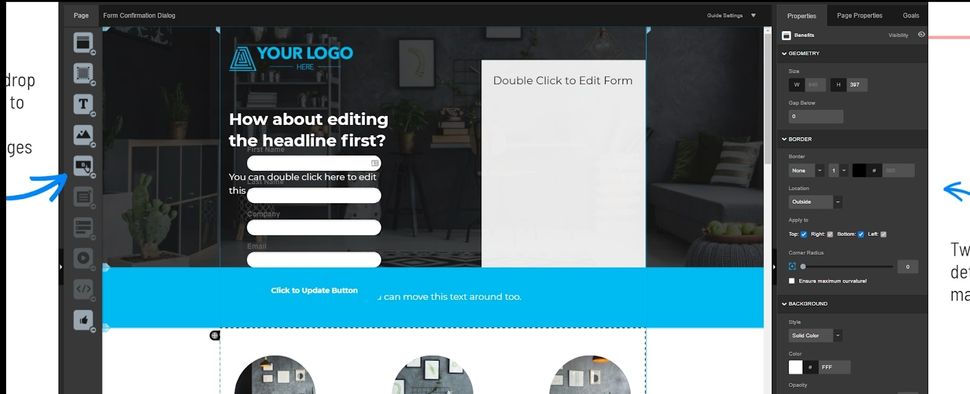 Interface and in use
To set up your Unbounce account, simply choose your plan and whether you want to be billed monthly or yearly. When you click to start your 14-day free trial, you will be directed to a form where you can enter your personal information and choose a username and password. Alternatively, you can fill out the Google registration form in advance.
You will then be asked for your payment details (you can also pay with PayPal). Once signed in, you can switch between plans and monthly / yearly billing from your account dashboard. Billing begins at the end of your 14-day free trial. From there you can get started with the Unbounce landing page builder.
Currently, the Unbounce Page Builder is only available on the desktop. The drag and drop builder will display the page you are working on in the center of the screen with toolbars on either side.
In the left toolbar you can add page elements such as images, text, buttons and widgets, while you can edit their properties in the right toolbar. You can edit properties like style and color for individual objects, or even metadata for your entire page.
At the top of the page builder are quick-use buttons that you can use, for example, to send and copy and paste page elements forward or backward at the levels of your page.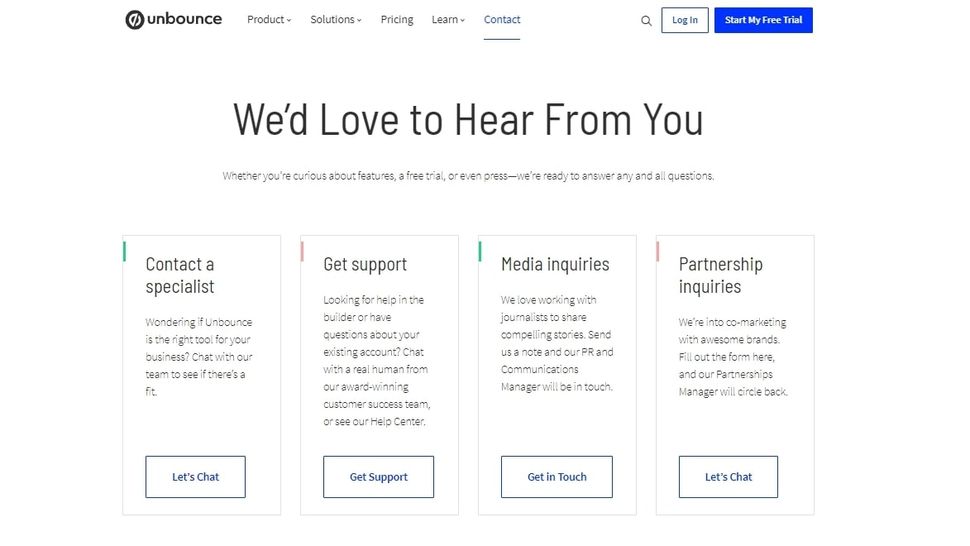 support
Unbounce has an extensive knowledge base with articles and frequently asked questions (FAQs) on its website, as well as a daily webinar on Master Unbounce. There is also a chatbot on the site or you can email us for a support ticket and one of the staff will be in touch to resolve your issue (users can within expect an answer within 3-4 hours). Alternatively there is a telephone hotline.
You can contact Unbounce by phone, email, or chatbot on weekdays from 1:00 a.m. to 8:00 p.m. PST and on weekends between 9:00 a.m. and 9:00 p.m. PST. As mentioned earlier, a concierge plan provides further assistance.
The competition
Instapage used by companies like Verifone, Verizon, and Hellofresh, and its optimization plan ($ 149 / month – billed annually) has many of the same features as Unbounce's Accelerate plan (in the same stadium at $ 180 / month) ).
You get the same SSL encryption, high page speed, conversion analysis and A / B testing. However, Instapage's optimization plan offers unlimited conversions as well as useful features like heat maps. It also includes similar Zapier, Salesforce, and Hubspot integrations to tie it in with customer relationship management (CRM) software. However, it does not offer page migration.
Like unbounce, Wish pond has more than 100 high-converting templates for mobile landing pages. You can also publish your landing page anywhere, including your website or WordPress site.
Wishpond's growth plan ($ 129 / month – billed annually) allows for up to 10,000 leads. While Wishpond is suitable for small and medium-sized businesses, plans can be customized up to 1 million leads, with agency plans available upon request. Wishpond also offers email, phone, and chatbot help, as well as an online knowledge base.
Final verdict
Unbounce is a landing page builder that can be used without a developer. Customizable templates make it easy to optimize campaigns with a variety of features like sticky bars with targeted calls-to-action. There are plans for all sizes of business and even the options of concierge plans if you think you need a higher visitor and conversion limit.
The lack of A / B testing and smart traffic at launch could mean it isn't comprehensive enough to be useful, but all plans have multi-channel support and access to Unbounce's knowledge base. With fast page speeds, drag-and-drop templates, and a range of ready-to-use images, Unbounce has everything you need to create high-converting landing pages quickly.
Source link : https://www.techradar.com/reviews/unbounce/