UENI offers a website builder service that promises to "Grow Your Small Business".
Plans start with a free option called 'Starter'which includes up to 10 bookings and / or leads, up to 5 images in your gallery, and a maximum of $ 250 in sales per month.
basic (not available with monthly payment), includes an SSL Certificate, 2 email addresses, access to the premium website design service, unlimited bookings and up to $ 500 in sales. You can also get VIP priority support. That'll cost you $ 129 a year.
The Plus plan, gives you unlimited bookings, sales and images. It offers full access to premium website designs, $ 10 in ad spend, and access to a 1-on-1 call with a website expert and a call to help you grow your business. All for $ 39 a month or $ 349 a year.
Finally we have call ($ 499 per year or $ 59 per month), which opens all other features, including the Reputation Manager and Request Review services.
We'll take a look at the free plan and see if it's worth exploring further.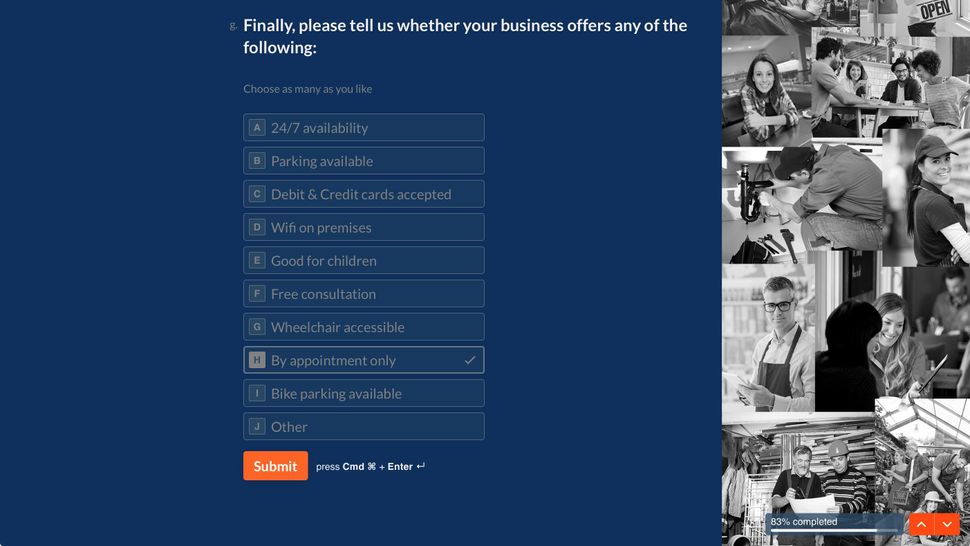 Started
If you choose this plan, we can jump right into the creation process. You set up an account and answer a series of questions to help UENI understand your business better. We encountered a bug: even though we gave our phone number as being from the UK, we were still forced to choose a US state as part of our address. Somehow, randomly picking a question seemed to get us to the next set of questions.
Another limitation is when asked what you want to do with your site – for example, you cannot choose "Blog" and "Sell Online" or any other option: you can only choose one, which feels very limiting.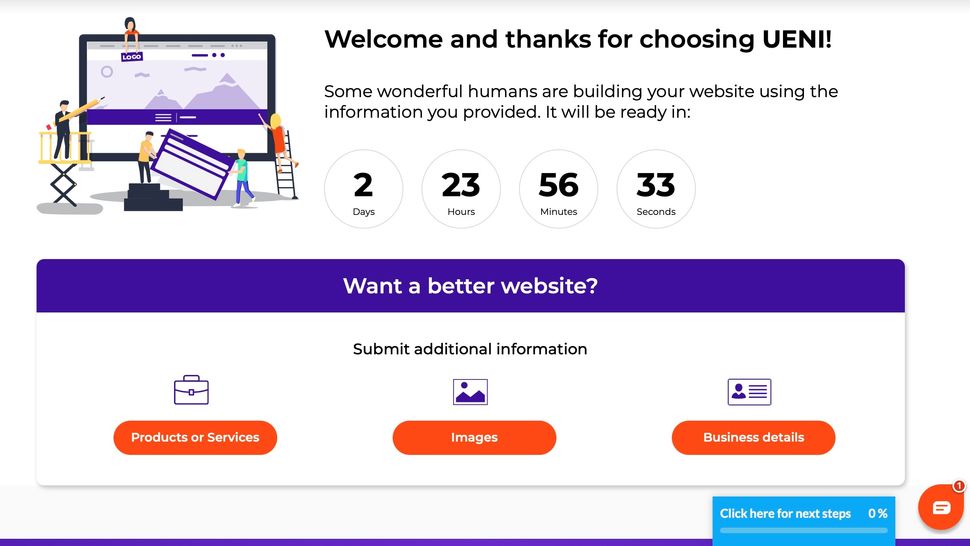 And after you have answered all of your questions and provided all the pictures, links to a video, maybe a bit of text about your company, you can get started! … in "three days".
Wait what
This is because your website is human designed, not an automatic computerized template, but it's still very unusual … On the plus side, an advertised three day wait for you, dear reader, is just a paragraph away …
Interlude
The last time we checked UENI, it took a little over 24 hours to finish our website. This time it took nearly five days, though, to be fair, it included a weekend. In an online world that is used to instant gratification, the wait really is a long time.
Let's look at the results …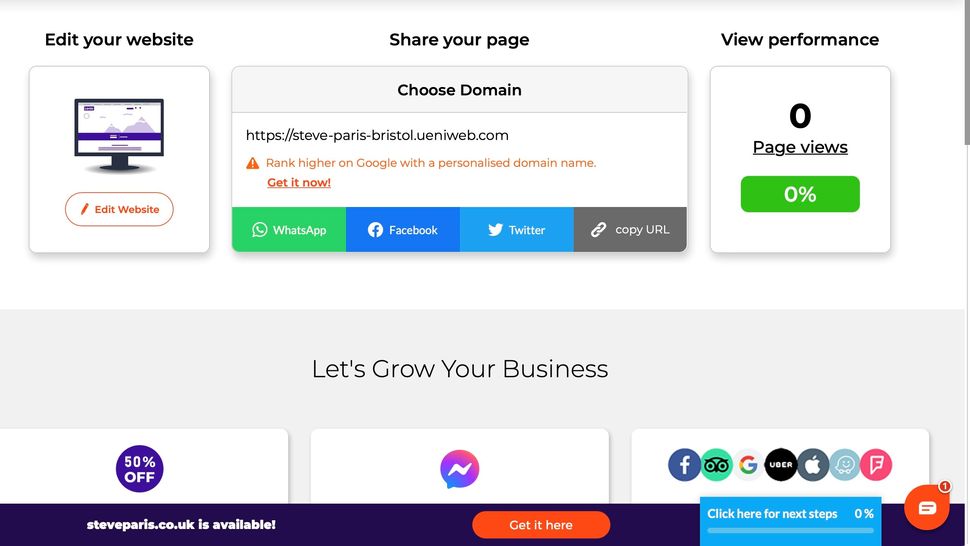 subjects
When your site is ready, you will be directed to your hub on the UENI website. You can use it to go to your website or, more importantly for us, click "edit website" and start tinkering.
At least that's what we hoped.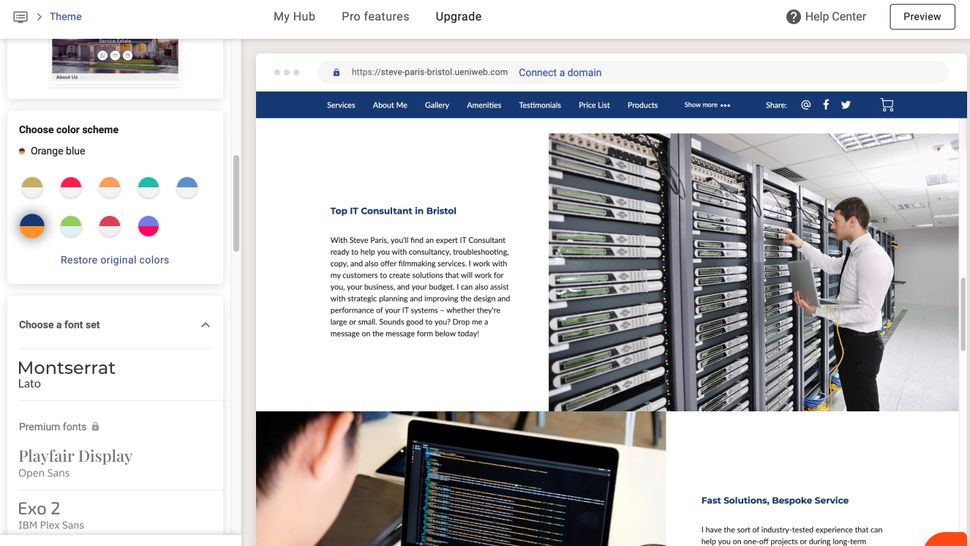 Yes, you have a choice of themes, but of the four themes shown, only one is available with the free plan – you can click on the other three and see what your website will look like to get an idea of ​​if it is worth spending money on.
Each theme has an assortment of colors that you can choose from. These two-tone options are different for each theme. 'Origins' (the free one) has 9, but the other three have 5 each.
The fonts, like the colors, come in combinations of two and you have 30 pairs to choose from, but only one such pair is free. All others are premium.
Okay, so our theme customization is extremely limited. How about editing the content of your page?
Sections
Your page is divided into sections. Each can be accessed via a navigation bar in the upper area. This won't take you to a new page, but it is a faster way to get to that section than scrolling down a very long page.
Again, your options are quite limited and not very intuitive. You can change the description and add new photos, which is great as most of the current text is AI generated. There's nothing wrong with the wording in itself, but it doesn't feel unique and you may feel that it takes a little tweaking to make it yours. All of this can be done from the sidebar on the left.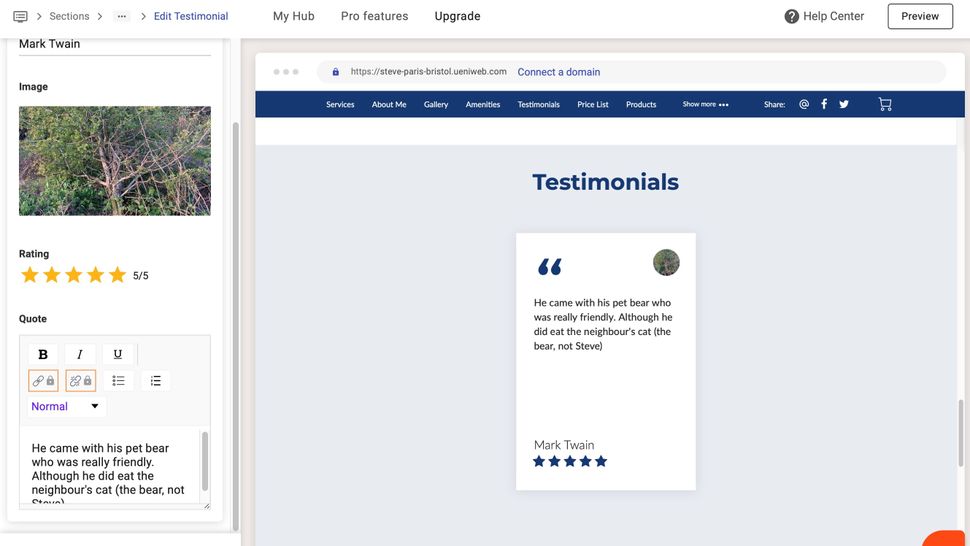 Basic formatting like bold, italic, underline, and bulleted or numbered lists can be accessed, but unfortunately if you want to add a hyperlink it's extra and the service will prompt you to upgrade immediately.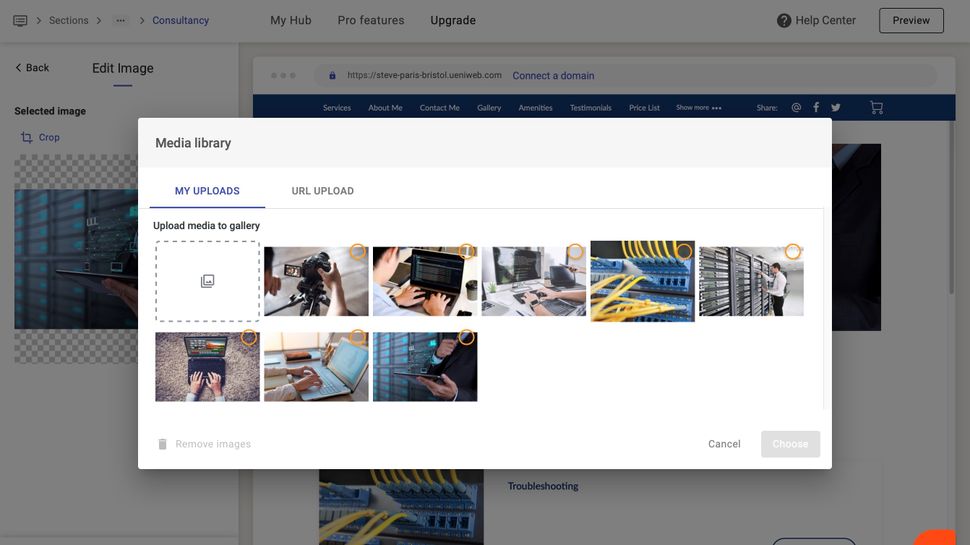 What was a bit puzzling to us were the photos that UENI used. We decided to create a site for an IT service and had uploaded several recordings during the initial process. But strangely, once the site is ready, we don't present any of the photos we uploaded. Instead, stock images were used. Fortunately, it's easy to change that. You can find the recording in one of the sections, click Refresh and choose a different one.
There is no link to any royalty-free online library so there was still no explanation as to where these mysterious photos came from. You will only have the option to upload it from your computer or paste the URL if the recording is already available online.
There are no image editing options, nor can you choose which area of ​​the image to crop – it does it for you automatically.
The inability to edit right on the page when so many competing services allow it to do so is frustrating and a constant reminder that you can get your customization work done faster and better elsewhere.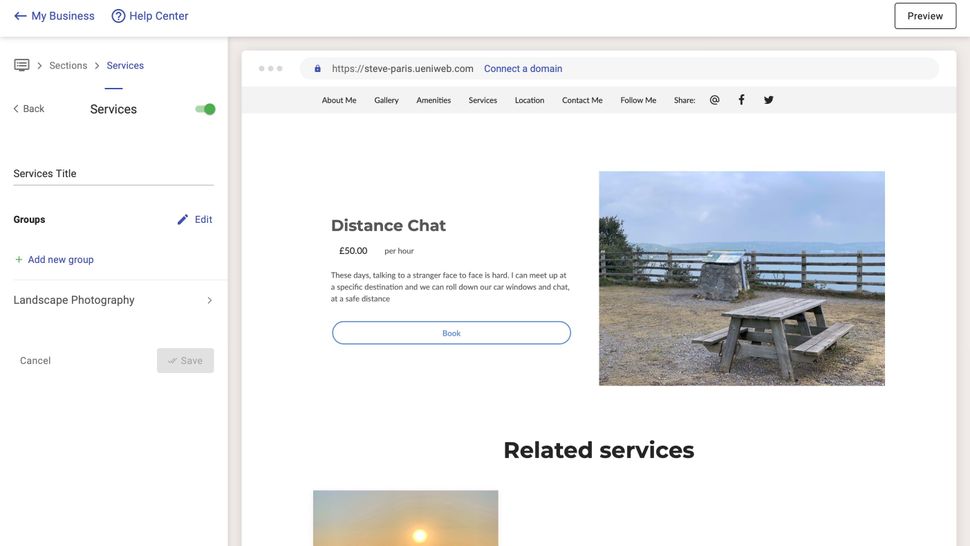 Services
While setting up an ecommerce store isn't part of the free plan (some other services allow you to try this part of their offering with a handful of products), setting up services is part of it.
We liked the ability to book a session which is very easy to toggle and is part of the free tier, but that's all we liked about this service.
Blog and support
We tried to find every type of blogging tool but failed. No section indicated this possibility, nor was there any information in the settings – which was limited to choosing your currency, adding a favicon, connecting an existing domain name, and editing your cart (the last two can only be used if you are upgrading to a paid plan).
But not a blogging tool.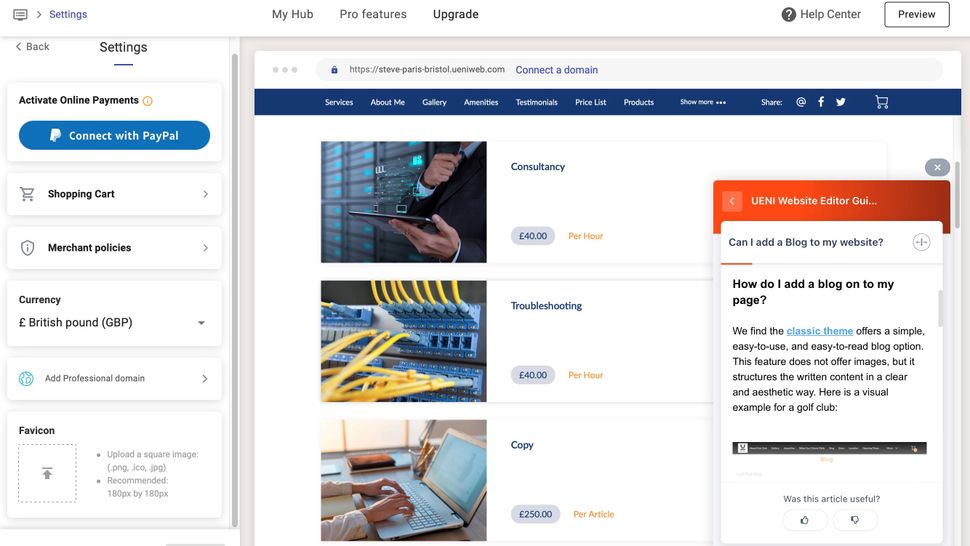 So we jumped to the help center and found some information there: Blogging only seems to be available with the "Classic" theme. This feels remarkably restrictive: what if you want to blog but prefer a different topic? Add that when so many other services are offering this functionality for free, blogging is only available on a paid plan, and you have a very disappointing experience.
Final verdict
This service is supposed to make it easy to set up an online presence, but we found it frustratingly slow, difficult, and even restrictive to work with, and incredibly limiting in its capabilities. Despite its apparent simplicity, it does take a certain level of computer experience to get what you want, which seems like a contradiction in terms, as those who are confident enough to do so would likely use a different service and those who those who are not would get lost here by themselves.
We believe this is more of a curiosity than anything else.
Source link : https://www.techradar.com/reviews/ueni/