Finding the right Usenet provider can be difficult. When you factor in things like retention, completion, speed, SSL, and of course the price, it creates an overwhelming avalanche of facts and figures.
Sunny Usenet offers a simplified option that promises all of the features you might need at a lower price than the competition. But does it live up to the expectations it has?
Registered in 2011, Sunny Usenet has a polished website designed to convince you to sign up. While other Usenet service providers only present their functions and a login button, it is a professional sales website.
There is one strange element to this, however.
If you have used several Usenet providers, you may find after your registration that the members area of ​​the Sunny Usenet is very similar to that of the Pure Usenet. Although no official connection is listed, both providers share a business address and name server according to WhoIs.com.
On the plus side, once you've used one service, you'll find your way around the other pretty easily.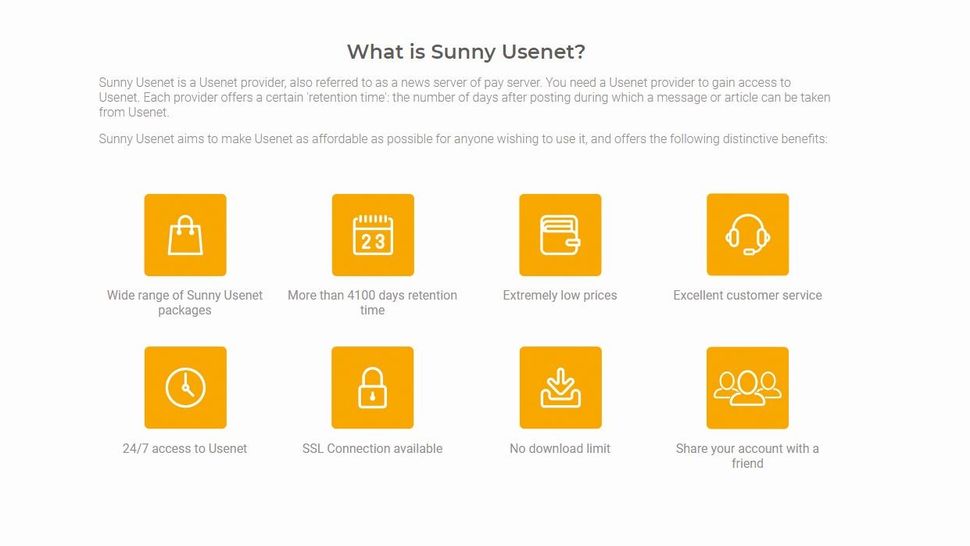 characteristics
Are you thinking of using Sunny Usenet? It has everything you would expect from a Usenet provider like good retention with 99.99% completion, SSL, concurrent connections, unlimited speeds, and good English language support.
These features are available in all three Sunny Usenet bundles, although the details depend on the price.
A 7-day trial is also available. The Sunny Usenet offers detailed data protection regulations.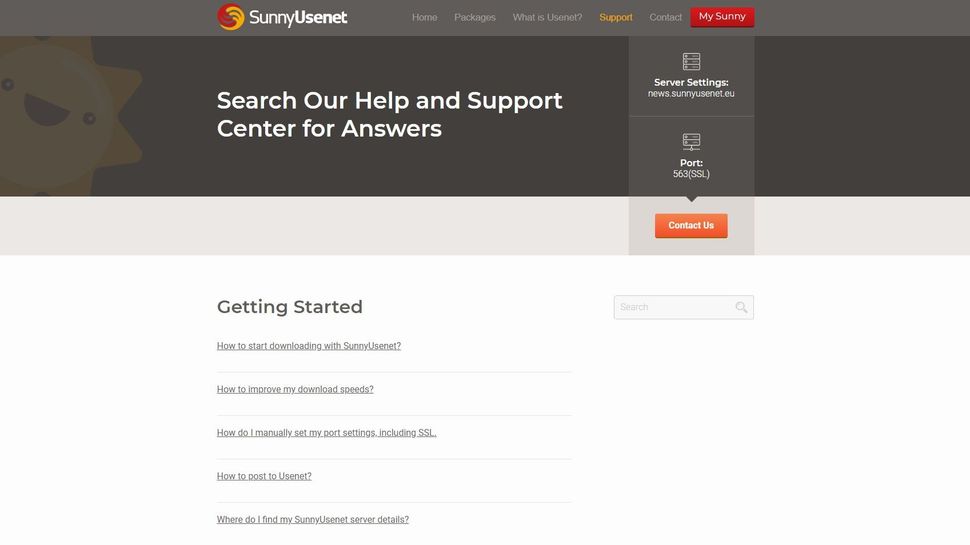 The setup for the Sunny Usenet is uncomplicated. After registration, the instructions for all important newsreaders will be listed in the members area. If you run into any problems, there are some support options available, as well as a detailed FAQ page.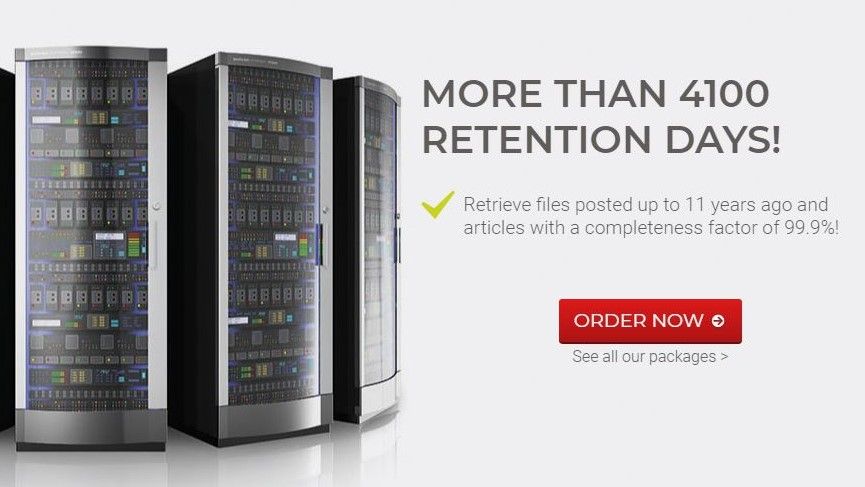 storage
With regard to storage, Sunny Usenet has delivered the Usenet archive for over 1100 days (4100 days) to date. This is 99.99% complete, which means that almost all of the data (other than data removed due to a copyright claim or malware) uploaded during this 4100 day period is available intact.
More importantly, this is a significant increase over the previously offered Sunny Usenet of 900 days.
While this isn't the full Usenet (it started in 1985), it is enough to find almost all of the data you need. In most cases, it is likely media or software. However, in some rare cases, you may need a Usenet provider to join discussion groups.
However, if you're new to Usenet, it can be a bit time consuming to look back over 4,100 days of your favorite discussion topic. Sunny Usenet's fast servers make searches easy, so you can find what you need in no time.
Security and privacy
Do you need a secure connection? SSL / TLS connections are part of the modern internet, and Usenet is no different. You can still establish a connection to the Sunny Usenet if you do not need SSL encryption, but the Usenet provider offers two SSL ports for secure connections via the newsreader you have selected.
In terms of data protection and privacy, Sunny Usenet records quite a bit. your Data protection Notes "First and last name, email address, phone number, username, zip code and country, payment method information" are all logged when you sign in or update your information. While clarity is welcome, it's worth noting that while Sunny Usenet does not record your Usenet uploads and downloads, it does share information with "our affiliates, parents, or subsidiaries …".
It also operates one Copyright Infringement Policieswhere it provides the information necessary to register a DMCA takedown.
performance
Usenet services tend to be pretty fast. After all, it's part of the package. The sunny Usenet doesn't disappoint. During testing, several files of different types were downloaded over a 55 Mbps connection with good results. A 1.3 GB download of an 879-day-old file downloaded in less than 10 minutes, peaking at 3,000 Kbps, and sustaining a majority of the download at over 2,500 Kbps.
The search is also lightning fast. The old file mentioned above appeared in a list of more than 100 files and indicates a well-maintained index database. SSL is also reliable.
In short, we did not find any performance errors in the Sunny Usenet.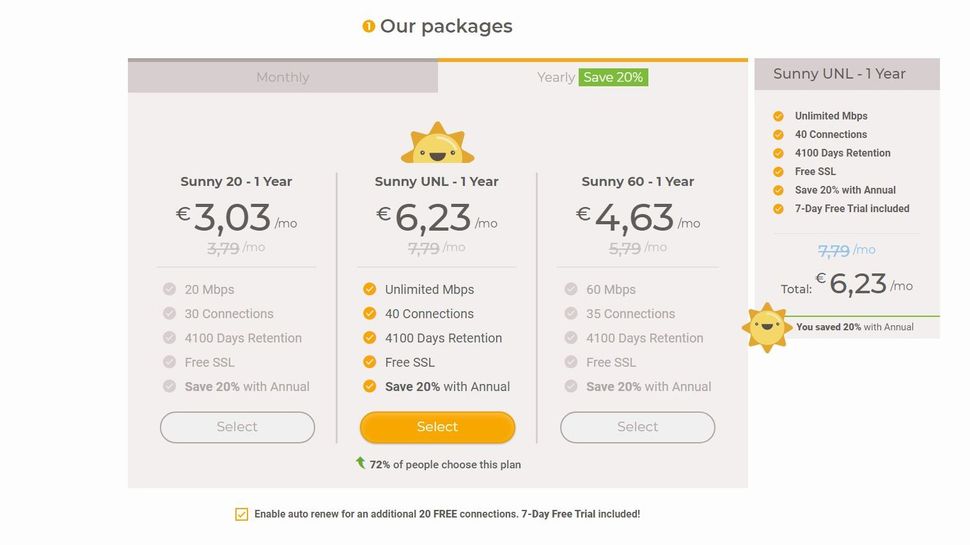 Pricing
If you would like to register for Sunny Usenet, three bundles with a 7-day trial version are offered.
Sunny 20 is the basic package that gives you back just € 3.79 per month (£ 3.45 and $ 4.40). This offers you 20 Mbit / s, 30 simultaneous connections, a retention period of 3,800 days and free SSL.
Sunny 60 Increases the performance with 60 Mbit / s, 35 connections and a retention period of 4100 days as well as free SSL. This costs € 5.79 (£ 5.29 and $ 6.75).
Finally, Sunny UNL is € 7.79 for a monthly subscription (£ 7.10 and $ 9.05) with unlimited speed, 40 connections and the usual 3,800 day retention and free SSL.
Annual packages are also available that give you a 20% discount if you pay 12 months in advance. If you choose auto-renew, you will receive an additional 20 connections.
Payment options are flexible. Credit cards are accepted along with iDeal, PayPal, and even Bitcoin. If you're not happy with the service or just don't need it, there is no complicated cancellation process. There isn't even a lack of information to make you feel like canceling is too much of a hassle. Sunny Usenet simply provides a "Cancel Account" link that you can click when you have enough.
Final verdict
It is quite difficult to get Usenet service delivery wrong. Easily identify a server, replicate the data to your desired retention limit, and provide multiple connections with optional SSL and reliability. Sunny Usenet does it all well while offering a surprisingly low price point that is considered to be one of the most competitive anywhere.
Take a free trial and there is very little to complain about here. The 40 simultaneous connections may be less than some of its competitors, but the retention is excellent, there is an unlimited option, and the Sunny Usenet is fast too.
While welcome in detail, this privacy policy is a little worrying …
Source link : https://www.techradar.com/reviews/sunny-usenet