It is hard to believe that just a few years ago online meetings took second place behind personal alternatives. Today the business landscape has changed, and with it the way companies communicate internally and externally. In this Cisco Webex Looking back, we're going to take a deep dive into one of the best video conferencing services available.
Zoom and Skype are still the best-known video conferencing platforms, but with Webex, Cisco has stepped up the stakes and provided market-leading features and conference facilities for up to 100,000 people.
---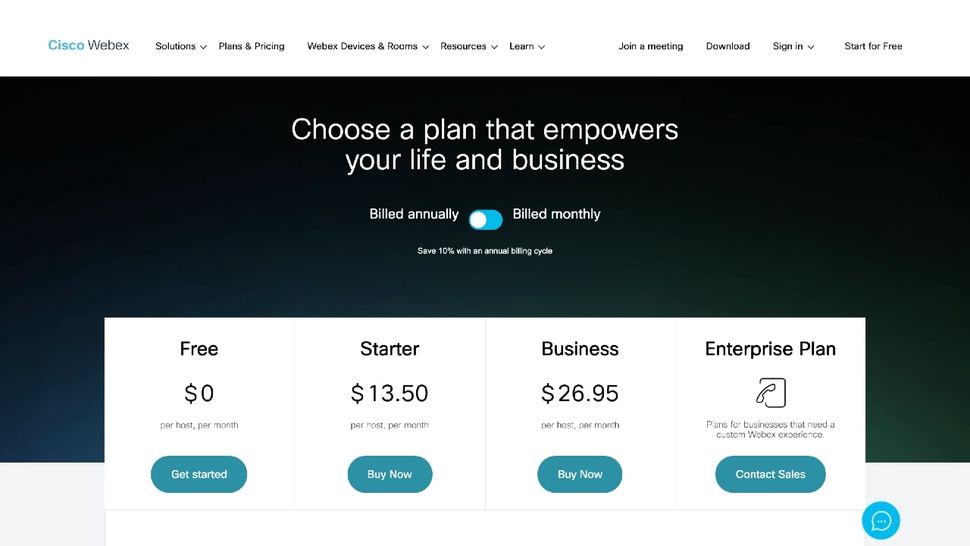 Plans and prices
You can pay for Cisco Webex annually or monthly. There are four options for both: Free, Starter, Business, and Enterprise. Annually, the starter plan costs $ 13.50 per host per month, the business plan is $ 26.95 per host per month, and the cost of the enterprise plan is calculated on a case-by-case basis.
The Starter plan costs $ 14.95 per host per month Business plan $ 29.95 per host per month Business plan has customized prices.
The Free plan is only available for a single host and has limited features and a tiny call limit of 50 minutes. The starter plan allows 1 to 50 hosts, the business plan is suitable for up to 100 hosts, and everything beyond that is covered by the enterprise plan. In terms of features, all paid plans have a 24 hour meeting time limit and access to all core features like screen sharing and MP4 recording.
The more you pay, the more attendees you can call (150 for the Starter plan, 200 for the Business plan, and up to 100,000 for the Enterprise plan) and the more data you can store in the cloud. There are also some additional security benefits and expanded support for the Enterprise plan.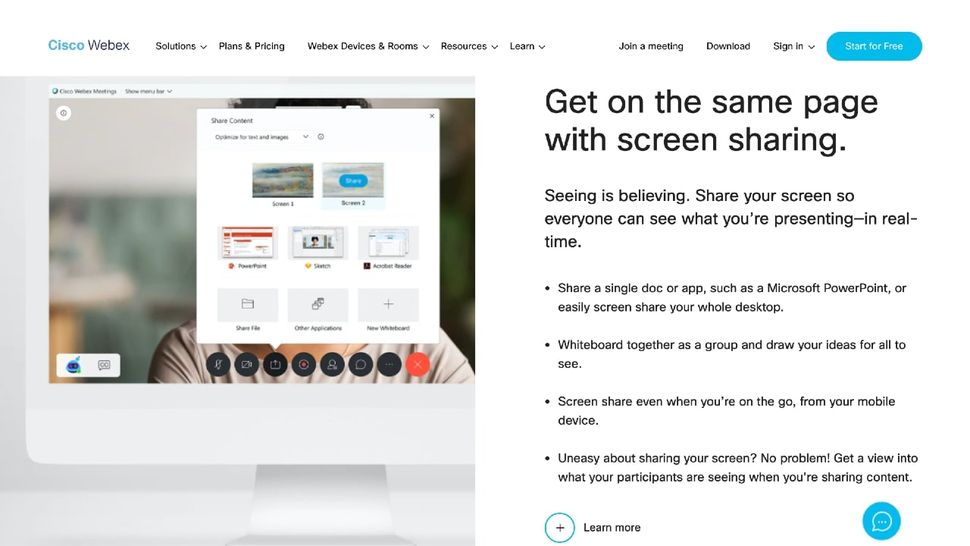 characteristics
The functions of the platform can be broken down into three parts: meeting, calling and messaging.
Cisco Webex offers many features for meetings. Most of what you'd expect, but there are some nice surprises such as personalized screen designs. Meetings are held in HD video and audio for up to 1,000 participants. There are several ways to attend, including VoIP, a direct dial-in number, or being convened by the meeting host.
There are options to share your entire screen, from apps like Microsoft PowerPoint, or to collaborate on a digital whiteboard. There are a number of recording options that you can use to record directly on your device or save recordings to the cloud. All recordings also contain automatic transcripts.
Cisco Webex also integrates with a number of calendars such as Google, which makes planning easier.
A standout feature is the level of personalization available in meetings. The video panels displayed on the screen can be moved or resized to suit your needs. You can create virtual, customizable backgrounds or blur your existing background. There are even breakout rooms so you can split up into smaller groups in the same meeting.
With Cisco Webex, you can use an assigned phone number to make and receive dedicated business calls on any device of your choice. You have the option of using an existing number, creating a new one, or assigning multiple numbers to your employees.
Calls can be routed to different parts of your company and organized through an automatic phone menu. There are advanced features including call hold, transfer, transfer and shared lines. A visual voicemail service allows you to see all messages waiting.
Making and receiving calls to other Webex users is free through the app.
Cisco Webex allows both group and individual messaging outside of our meeting. You can share gifs, add emojis, and edit or remove messages. File sharing is quick and easy, and files are well organized next to the chat window.
It is also possible to integrate your existing business software. Some of the most popular of the many integrations are Microsoft OneDrive, Google Drive, and Salesforce. Tech-oriented companies can also make the most of the GitHub integration.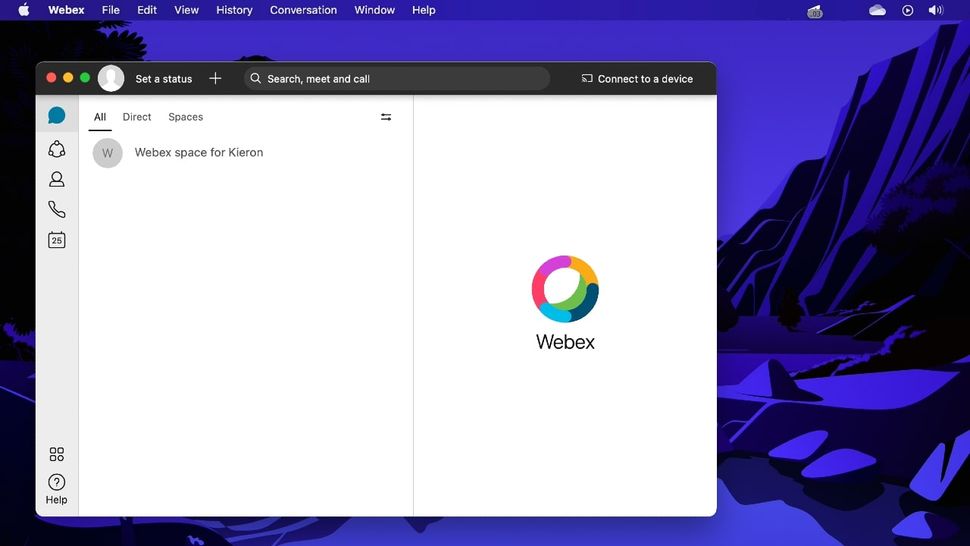 Interface and in use
Setting up Cisco Webex is quick and easy. Once you've downloaded the app, all you need to do is install it, verify your identity using a code sent to your email, and then create a password and username.
The user interface is well designed and attractive, but newcomers to video conferencing may find it a little complicated. This is because Cisco Webex is more than just a video platform. It's an all-round business tool.
Take the time to explore the platform, especially the apps and integrations, and quickly discover a wide variety of use cases and a very useful tool that is available to you.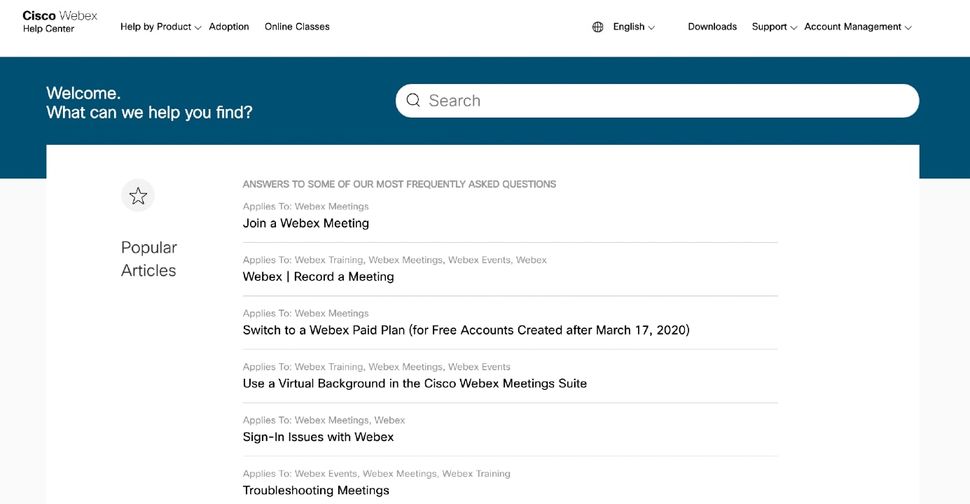 support
Cisco Webex offers comprehensive online support services. This includes video tutorials, articles, and free training programs, as well as daily demos and live events with product guides and even guest speakers. Whether or not an industry event is required for your video conferencing needs is debatable, but there are many options you can choose to maximize your software experience.
There is also a dedicated help center and community site where Webex users can share tips and help one another directly. Get what you pay for for personal support. The free service includes online support only, the Starter and Business plans include chat access and phone support, while the Enterprise plan adds a dedicated agent to the mix.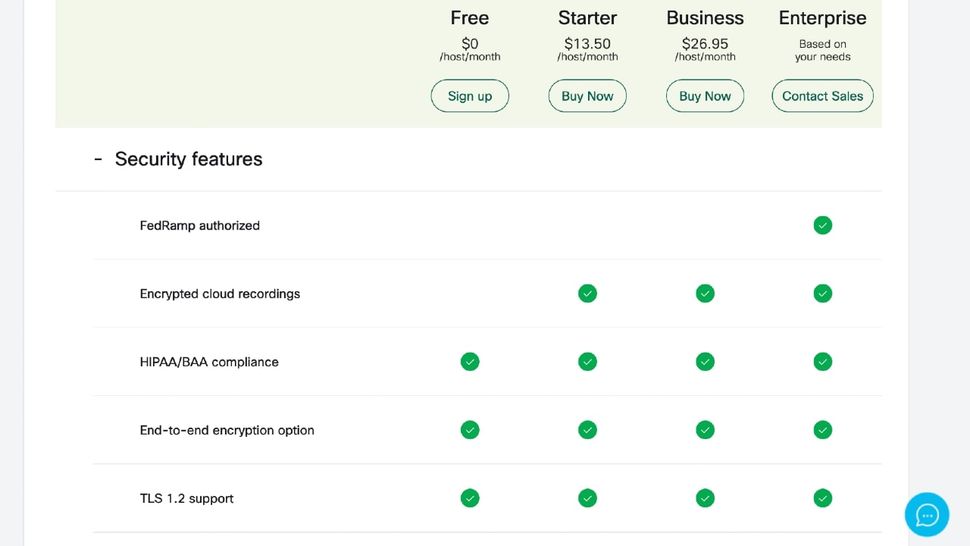 safety
Cisco Webex is packed with security features. Cloud recordings are encrypted, there is an option for end-to-end encryption, and you can also add meeting passwords and locker rooms.
Additionally, the enterprise-level service includes a FedRamp-authorized program, while all paid plans benefit from HIPAA and BAA compliance and Transport Layer Security (TLS) 1.2 support.
The competition
Cisco's main competitor in video conferencing is Zoom. While Zoom is probably better known, both platforms offer similar service, but Cisco Webex is a bit cheaper. Zoom is easier to use, but Cisco Webex has more interesting in-call features.
Microsoft Teams is another major competitor. Microsoft Teams includes more security features, such as: B. Compliance with the EU Model Clause, although Cisco Webex is sufficient in this area. Microsoft Teams is also cheaper. However, Cisco Webex has many more integrations, over 2,000 compared to around 250 for teams.
Final verdict
Cisco Webex is a brilliant platform and more than capable of meeting the needs of any business regardless of size. It's a little expensive which some users might rule out. The quality of service is well worth the cost, however, and the sheer number of integrations could quickly make the system an integral part of your business.
Source link : https://www.techradar.com/reviews/cisco-webex-meetings/