Compared to web hosting industry veterans, MDD hosting is practically a newcomer to the industry. The company was founded in 2007 and is headquartered in Mooresville, Indiana with the aim of providing an alternative to hosting services that have been viewed as overpriced and therefore inaccessible to many potential customers.
To add a note of sentimentality, they insist they don't see their customers as a number or dollar sign and provide each individual with the highest quality service and support. A noble goal, but how much of it they have achieved needs to be verified.
Today, they pride themselves on hosting more than a few thousand websites around the world that they host from their network data centers in Denver, Colorado. On this subject, MDDHosting, like many others, was rather open and provided a considerable amount of information on its main website. The website itself looks rather blue, feels fresh, and is easy to use, which is always an encouraging sign.
As is common with younger hosts, the website features an official blog with the latest on the company, announcements, and specials. However, you will not find extensive textual content such as introductions, product analysis, guides and stories about hosting or the like.
While MDDHosting is present on multiple social networking platforms, it doesn't appear to be particularly active. This is probably the main reason these accounts are not having a stronger presence on their website.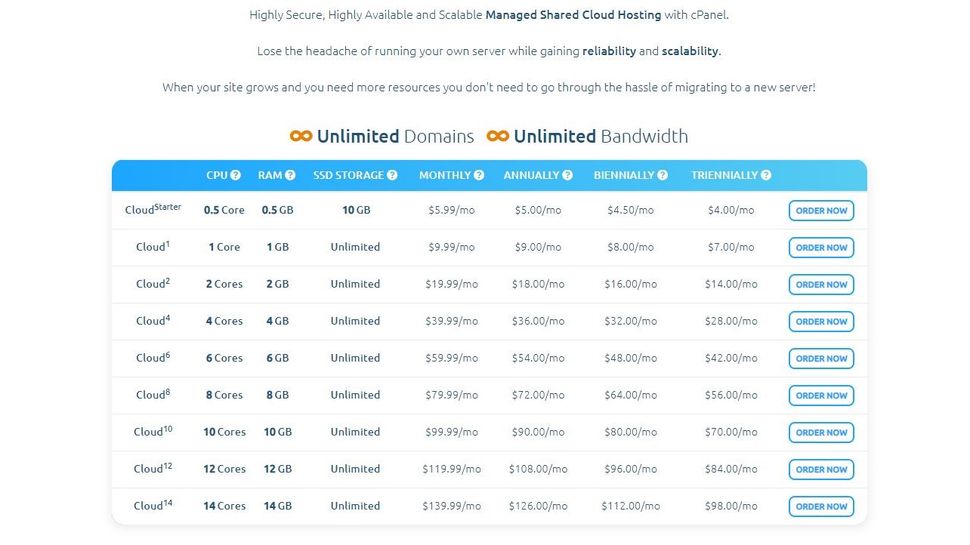 Plans and Pricing
With MDDHosting's focus on cloud hosting and cloud-based VPS, the skepticism of those looking for more traditional options may be justified. In addition to these two options (each offering some plans that differ in size and purpose), MDDHosting presents three reseller hosting solutions.
Regardless of the hosting type, all plans come with some nice features, including extending website security with an SSL certificate, StorPool-based storage, and daily offsite backups. The most economical plan among these is labeled "CloudStarter" and will cost you $ 4.00 a month (sounds pretty cheap?) But only if you commit for three years (yes, it was too good to be true) . Otherwise, the price will be anywhere from $ 4.50 to $ 5.99 depending on the billing cycle that (to be fair) for a cloud hosting service that gives you unlimited domain names and bandwidth, as well as features mentioned earlier, is pretty affordable.
If you choose MDDHosting and change your mind, there's an "unconditional" 30-day money-back guarantee if you are a first-time user. This applies to all MDDHosting plans.
The payment methods gladly accept all major credit cards and PayPal.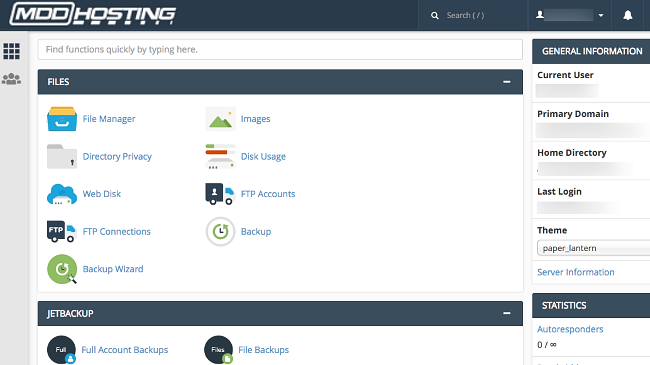 user friendliness
Deciding on a plan with MDDHosting is a breeze as it presents all of the options in a way that is easy to understand and compare. All cloud hosting plans with the exception of "CloudStarter" include unlimited SSD storage and the promise of blazing speed. So, unless you have to necessarily save money, consider opting for a bigger plan.
"CloudStarter" is best for personal blogs or simple websites with low traffic and only a few plugins. However, if your website grows (or you just change your mind), you can always upgrade your package to "Cloud1" in no time.
Unfortunately for the newbies, MDDHosting is not generous to mistake when it comes to domain names as anyone who doesn't already have one must buy one. Otherwise, you can transfer it or use it without having to swap out your current manager for a new one.
After that, move on to your diagram where you can review everything in detail and decide if you want some add-ons, some of which are free. Here you decide whether you want to access SSH / sFTP or not, which does not affect the total cost.
The billing cycle is comfortably resilient and covers any expected period from one month to three years. The next page offers you to add even more add-ons (some free, some affordable) and after that (guess what?) Even more add-ons. Truth be told, they are all good to have (daily website backups from CodeGuard, SiteLock, spam filters, etc) and reasonably priced. To complete the order you will need to create an account with MDDHosting by providing them with a range of personal information that you should be used to by now if you have dealt with similar hosts in the past.
After checking out, you can easily move to your control board where you can manage and manage the details of your package and account, which you can upgrade or downgrade with just a few clicks. From here you can log into the industry standard cPanel which (with a little practice if you're a newbie) can easily control all aspects of your new website. With free access to Softaculous, hundreds of great apps can be yours in no time. Additionally and alternatively, there is a drag-and-drop website builder with more than fifty themes and just as many widgets.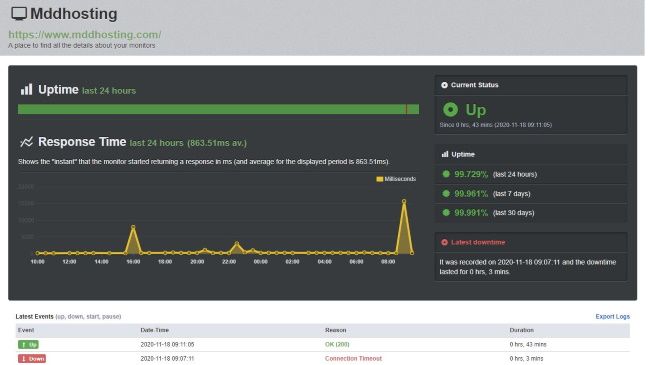 Speed ​​and experience
While MDDHosting doesn't make a lot of promises in terms of speed performance, the specs on their data centers (LiteSpeed ​​servers for the win!) Have given a hint as to the answer.
In search of more empirical evidence, we tested the speed of MDDHosting's main website using a highly valued tool called GTmetrix. The result was perfect, which wasn't really a surprise. The time it took to fully load the page and make the largest element visible, with the total block time and other metrics showing not only above average but practically perfect results. In summary, GTmetrix rated the main location of MDDHosting with a well-deserved A (100%).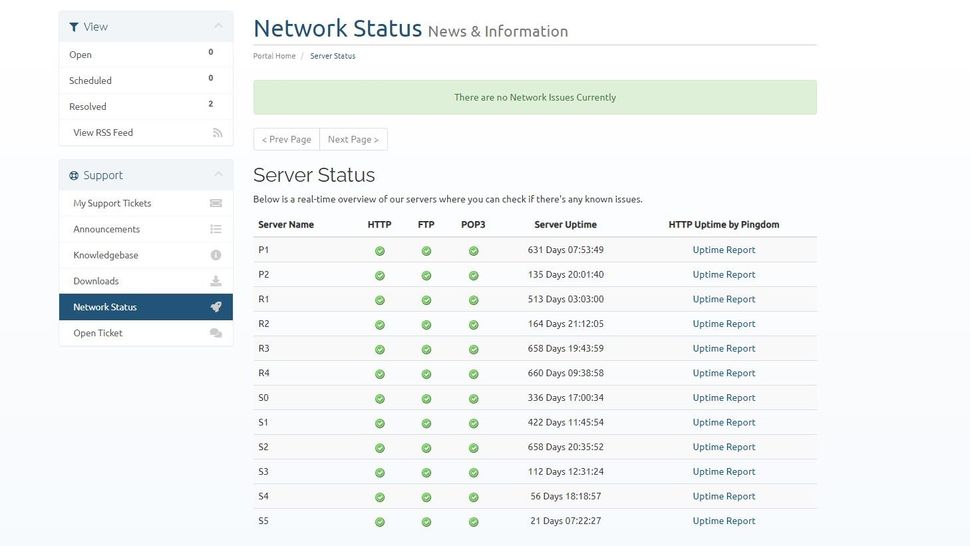 MDDHosting offers a 1000% availability guarantee, which is secured by SLA (Service Level Agreement). This means that a user is entitled to a credit that is ten times the actual downtime of your website. We have to say this will certainly alleviate the trauma of being apart from the rest of the world.
After monitoring the availability of MDDHosting's main website during the month, UptimeRobot gave us a sigh of relief. During the recorded time, the total downtime was 43 minutes, which means the website has increased 99.991% of the time (welcome news indeed).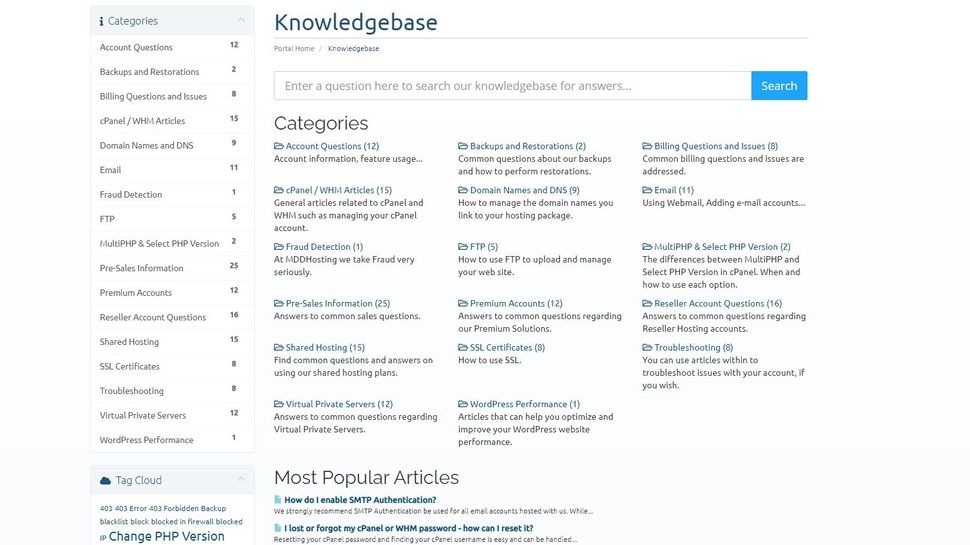 support
All introverted colleagues will be happy to hear that MDDHosting has provided us with all the essential self-help options. The information about the servers and their overview are made available in real time on the Network Status page. The Knowledgebase uses a familiar, well-structured layout and is full of articles on various related topics. The articles themselves are inconsistent in length (some are text-heavy and filled with images, while others are made up of a single sentence) but generally go straight to the point and provide a satisfactory solution to the problem.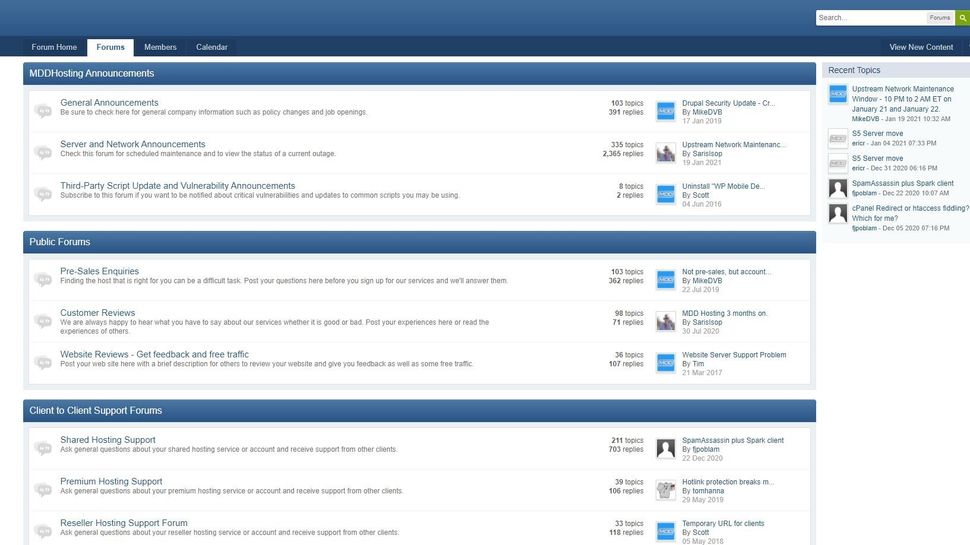 Finally, there is also a community forum, but it has recently been filled with announcements about server status and some customer reviews. One of them caught our eye with a hilarious (but fairly accurate) description of the MDDHosting support team depicting them as "support ninjas" who are always "quick, friendly and knowledgeable".
These "support ninjas" can be reached by ticket or email, but you are not trying to hire them to do the dirty work for you unless it is hosting related. If you have any sales and billing questions, you can contact them by phone during 8:00 am to 4:00 pm (EST) business days.
The competition
2000s kids, both MDDHosting and Hostinger, are success stories in the web hosting landscape today. There are certain similarities between the solutions they offer, although Hostinger includes email hosting, WordPress-optimized packages, as well as Minecraft servers for all fans. In addition, the solutions offer a whole range of options for a control panel and are cheaper. However, the performance of the MDDHosting server (in terms of speed and availability) is hard to beat even for Hostinger.
MochaHost and MDDHosting have data centers in the US, but while MochaHost provides some of them, MDDHosting only has one. Both are more than worth recommending hosts, although MDDHosting doesn't offer a dedicated hosting option, which is a must for fast growing businesses.
Bluehost is rightly one of MDDHosting's biggest competitors. While MochaHost can boast of its "perfect" performance and the "insane" SLA-backed uptime guarantee of 1000%, Bluehost is a more beginner-friendly option with cheaper entry plans, free domain registration, required one-click installations and more support channels.
As a US-based provider, both HostGator and MDDHosting are the most convenient solution for US customers. While both are great value for money, HostGator may be a better choice for newbies, while MDDHosting's extensive list of features attracts web developers. And since they both come with a money-back guarantee, you can change your mind without breaking your budget.
Final verdict
MDDHosting's hosting solutions are fast, feature-rich, and reliable products that (while not the cheapest product on the market) are unlikely to force you to break the bank. The whole process of choosing a plan, creating your account, and launching your website is surprising and pleasantly straightforward. You can always update your plan as smoothly as possible.
However, when it comes to being beginner friendly, MDDHosting has a fair share of strengths and weaknesses. Most notable is the lack of live chat as a support option, which is a shame as it is one of the most popular channels for customers to get help. If you are new to all of this, it is worth investigating some of the alternatives (like HostGator, Bluehost, or WebHostingBuzz) before trying MDDHosting.
Source link : https://www.techradar.com/reviews/mddhosting/