In the company's own words, the story of Leaseweb started in the clouds (yes, literally) when some Dutch pilots realized the importance of reliability and global connections in the clouds and below. With this in mind, Con Zwinkels and Laurens Rosenthal founded a cloud hosting company called Leaseweb in 1997. Headquartered in Utrecht, the Netherlands, the company moved its headquarters to Amsterdam in 2007 and has remained there ever since.
Today they operate 18 ISO-certified data centers in Europe, Asia, Australia and the USA. With more than twenty years of industry experience, they offer a variety of services including shared hosting, dedicated servers, VPS, private and hybrid cloud hosting, CDN, and object storage.
The main Leaseweb website leaves an impression of modern design, commitment and ease of use. While the default language is English, the website is available in a few other languages ​​(German, French and Dutch). To the best of our knowledge, the translation is complete and professional.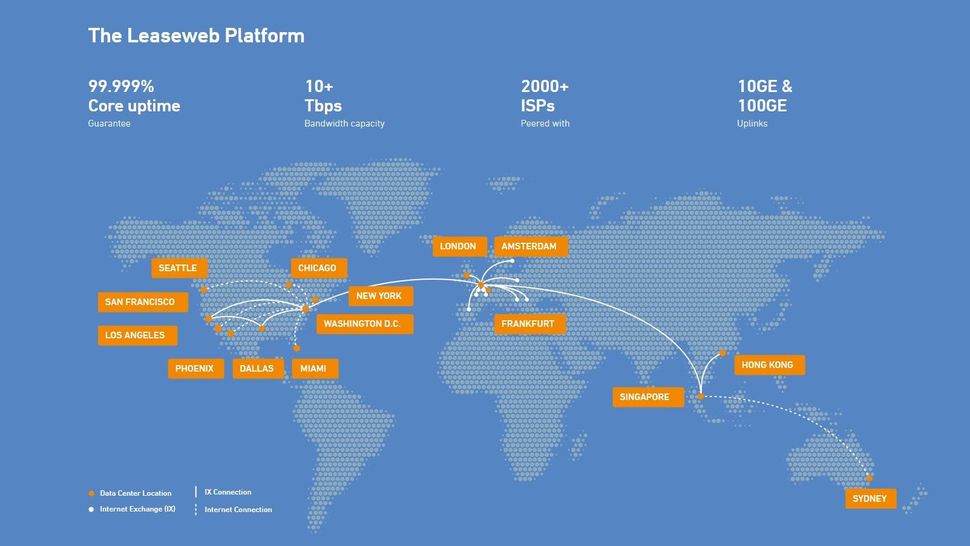 If you scroll down on the landing page, you will be taken to the interactive world map, on which all data centers are marked. Clicking on one of these options will reveal additional data about the selected location, which is both informative and an important indicator of a responsible business approach.
The Leaseweb website is home to one of the more complete and creative "About Us" sections we've seen so far. In addition, they have an official blog and a great one. It has a large number of different interrelated categories (dedicated servers, CND, open source, tutorials, e-commerce, online games, etc.), each of which has a number of well-written, cutting-edge articles.
In terms of social networking, Leaseweb has a presence on LinkedIn, Facebook, Twitter, and YouTube, but for some reason none of the accounts have been particularly active this year.
Plans and prices
There are so many different hosting options out there that it is virtually impossible to give them the attention they deserve. Companies have a number of different plans and all of them can be customized to suit the needs of their users. A freelancer or small business owner who wants a simpler website can choose between four shared hosting plans (simply referred to as S, M, L, and XL) that suit each operating system (Linux and Windows). We should note that those are a bit more expensive for Windows, which was no surprise.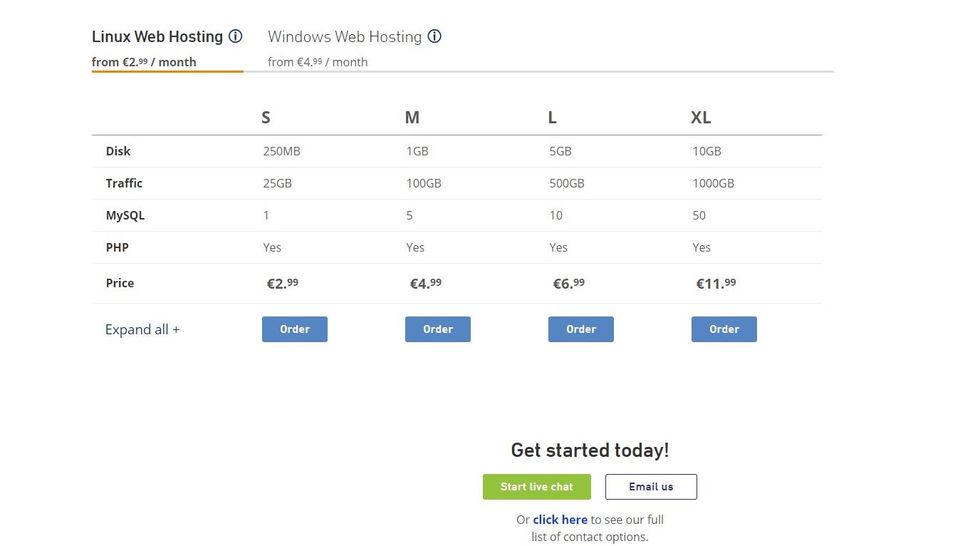 The cheapest Linux based Shared hosting plan costs € 2.99 ($ ​​3.56) per month and includes: 250 MB storage space, 25 GB data traffic, unlimited subdomains and domain aliases, up to 250 e-mail accounts, 5 GB mailbox space, unlimited e -Mail aliases, antivirus & spam filter, optional including SSL certificate and daily backups. However, because this plan is rather limited, most users tend to go for a medium or large plan.
All Leaseweb hosting plans are only available for an annual subscription. This is an inflexible option that may turn out to be a shutdown for a number of potential customers. Another disadvantage is the lack of a money-back guarantee.
With Leaseweb, all purchases can be made via credit cards, PayPal and bank transfer.
user friendliness
When purchasing a shared hosting plan, we had to submit for a year as we had no other option. We could only choose one of four plans (which are presented in great detail) and an operating system to use. You will then be asked to choose a new domain name (with the most popular extensions highlighted) or transfer an old one. The number of possible domains is immense, but their prices can also range from € 6.00 ($ 7.16) to € 133 ($ 158) per year.
To create our Leaseweb account, we had to provide them with the usual personal information: name, email address, phone number, home address and the rest. After that we choose a payment method, check all the details again and complete the purchase. After that, we were only informed that we would be contacted by Leaseweb's team (by phone or email) within the next 24 hours. After that, our newly created website will be displayed (sooner or later).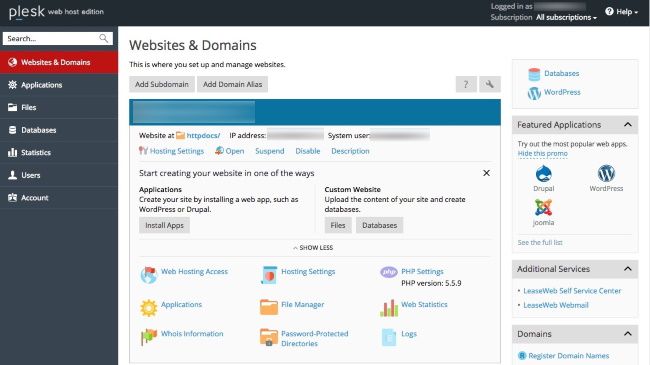 Depending on the chosen plan (shared hosting comes with Plesk), three control panels are available: user-friendly and Windows-based Plesk, a popular Linux-based cPanel with numerous functions, and Vesta, a Linux-based open source hosting control panel . While there are some functional differences between the three, most users will have no problem creating and managing the content of their websites using either.
App installations are made simple, and while the number of available ones isn't impressively large, the most popular ones are available (WordPress, Fantastico, Joomla, Magento, Drupal, and more). A competent file manager makes it easy to upload files to your own website and manage the entire content. Advanced users can access Windows via FTP, SSH or RDP by enabling it in their account. In addition, there are some additional tools available for those who want to add subdomains, create additional accounts, or check details on bandwidth usage and website traffic.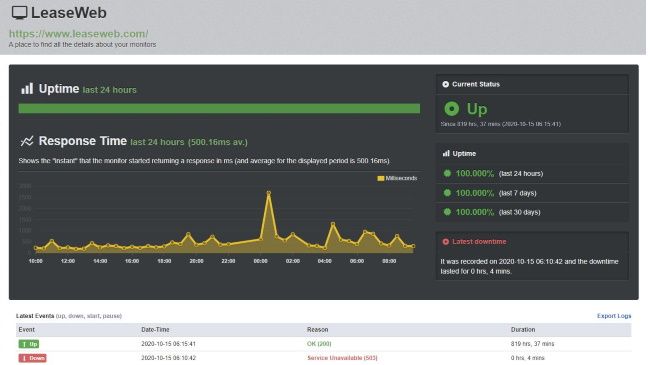 Speed ​​and experience
Leaseweb promises nothing less than an "uncompromising service" without going into too much detail. After testing the speed performance of their main website, we must conclude that their trust is largely justified. A report by GTmetrix rated their website's performance as above average. The full load time was 3.3 seconds, which looks pretty promising compared to the 8.1 seconds average result. At the same time, 112 requests were required, which is slightly higher than expected (the average is 98 requests), but nothing to worry about.
In terms of availability, Leaseweb promises an impressive 99.999% of that, but not when it comes to shared hosting. After running an availability test provided by UptimeRobot for more than a month, we were able to determine near-flawless performance. There was only one downtime that lasted 4 minutes before it was fixed. So this is probably not a problem for the future.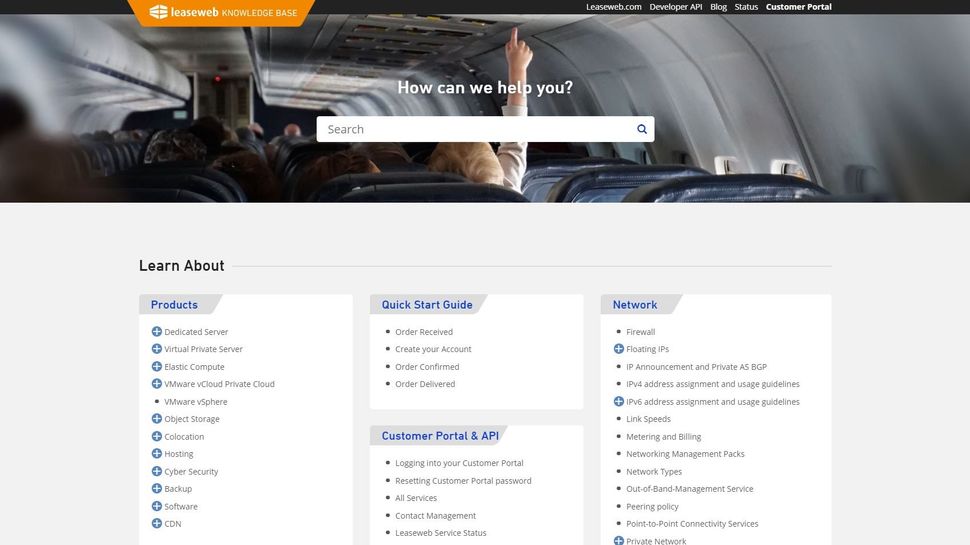 support
If you search for customer support on the Leaseweb website, you will come to their knowledge base which immediately impressed us with its straightforward, easy to use and professional looking interface. The articles are divided into eight more logical categories, which expand into a number of additional sub-categories, and so on. Finding the information you want is as easy as anything else using the search box too. The articles themselves are, for the most part, terribly simple and often imply prior knowledge of the matter, which could make things difficult for beginners.
Fortunately, there are other ways to get support: phone, live chat, support ticket, email (online contact form), and, if you're really into retro, fax. While we tried our luck with live chat and received a satisfactory response in a reasonable time, keep in mind that the company's response time will vary depending on your hosting plan. There, high-end plans usually guarantee a quicker response than the others.
The competition
Given their business models, PowWeb and Leaseweb seem to separate Pole from one another. While PowWeb offers a unified plan, Leaseweb has so many plans that it all goes through that it can lead to analysis paralysis. However, if this is going to be your first website, choosing is a lot easier. PowWeb's hosting plan is less restrictive, with a free domain, easy-to-use website builder, 30-day money-back guarantee, and all for about the same price.
Both Leaseweb and Hostgator are reputable web hosting providers with years of experience and a comprehensive selection of hosting options. Even so, Leaseweb is more geared towards medium to large companies, while Hostgator has something attractive for everyone, especially newbies. The generous 45-day money-back guarantee gives you more than enough time to make a final decision.
Bluehost is famous for its affordable model, easy-to-use interface, and one-click installation. Based on these criteria, Leaseweb is not far behind. However, Bluehost's shared hosting plans have fewer restrictions, support more apps, and (which is always an important point) offer a money-back guarantee to all users.
Both HostDime and Leaseweb offer reliable, enterprise-grade hosting with data centers to choose from available around the world. With HostDime, however, shared hosting is not an option, with Leaseweb (albeit somewhat limited). So the choice depends on both the needs of your company and your personal preferences.
Final verdict
Leaseweb offers a wide range of reasonably priced and high performance hosting solutions that can cater to the needs of the most demanding businesses. They are confident enough to exclude a money-back guarantee from their products, which ironically could discourage a number of potential customers. Ultimately, their high-end plans are great value for money. However, if you're building your first website or looking for something simpler, Bluehost or Hostgator are a perfect alternative.
Source link : https://www.techradar.com/reviews/leaseweb-hosting/