HostPapa is a Canada-based, privately owned web hosting company that launched its application software for dedicated hosting services in 2002. Three years later, they started offering their first hosting services and eventually the company was officially founded in 2006 by Jamie Opalchuk in Ontario, Canada. Over the years, they have offered shared, reseller, WordPress, and VPS hosting to customers around the world. At the same time, they've managed to build a pretty good reputation for their dedication to safety, reliability, technical expertise, and solid customer support.
HostPapa has received a number of awards since its inception, including Uptime Awards from NCM Online and WHTop. In addition, they were included three times in the PROFIT 500 ranking of Canada's fastest growing business list, most recently in 2015. That same year, they announced a partnership with Dropmysite, a Singapore-based global cloud software platform that provides backups for websites and databases offers.
One way that HostPapa differentiates itself from its competitors is by focusing on being and staying green. Their environmentally friendly approach is evident in the use of 100% green renewable energy to power data centers, web servers and all electronic devices in their offices. Concerns about their company's environmental impact have been mentioned in their promotional materials and have been their unique selling point from the start. In addition, in 2011 HostPapa funded the planting of 10,000 trees across Africa on Earth Day through the Love Trees charity.
HostPapa is also no stranger to curious marketing promotions like the one that promised to donate $ 5 to Save the Elephants for every former Bluehost user who migrates to HostPapa.
HostPapa's official blog is visually simple at first glance, and contains sufficiently engaging and extremely informative articles on various interrelated topics that are relevant to both existing and prospective customers. According to the 2020 release dates, the blog appears to be updated at least once a week.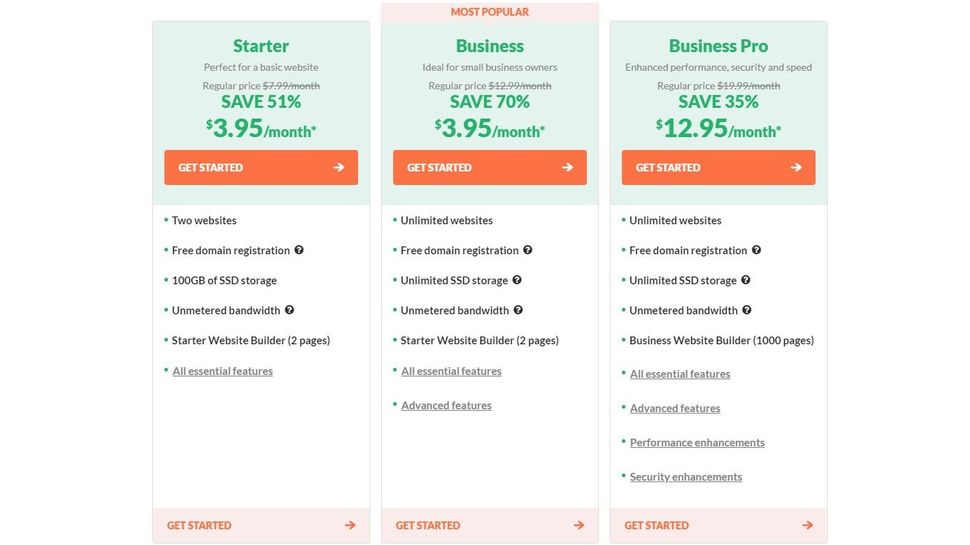 Plans and prices
HostPapa claims its goal is to offer every customer a full-featured hosting package at the lowest possible cost without compromising quality. All of this should be brought together with the help of world class customer service and powered by renewable green energy. With that in mind, we expected budget-friendly prices, and we more or less got that.
The shared hosting starter plan starts at $ 3.95 per month (although it costs $ 7.95 if renewed after the first three years), supports hosting up to two websites, and includes a free domain, starter website builder (maximum two pages) and 100 GB SSD storage and unmeasured bandwidth. That sounds like pretty good value for money.
While all customers are entitled to cancel HostPapa's services at any time, there is a 30-day risk-free money-back guarantee. However, this only applies to shared and reseller web hosting plans, which seems a bit reducing.
As a payment method, HostPapa accepts credit / debit cards and PayPal.
user friendliness
If you've chosen one of the shared hosting plans, the first thing you'll likely find out is that there isn't an option for monthly billing. Instead, you can only choose between billing for 12, 24 or 36 months, which seems unnecessarily inflexible.
On the upside, all plans are reasonably value for money and customers can choose from a few (unspecified) server locations: the US, Canada, and Europe. Additionally, you can add some add-ons labeled "Website Essentials" for a relatively high price. Some of these may already be checked, but it is easy enough for you to deselect them.
You can then choose a new domain name for free or transfer an existing one. To proceed, you will need to provide HostPapa with a range of rather regular personal information, select a payment method, and complete the purchase. All in all, it's a pretty straightforward process.
All the details of your order are displayed transparently on the far right of the screen, showing both the individual and total costs. This is always easy to see.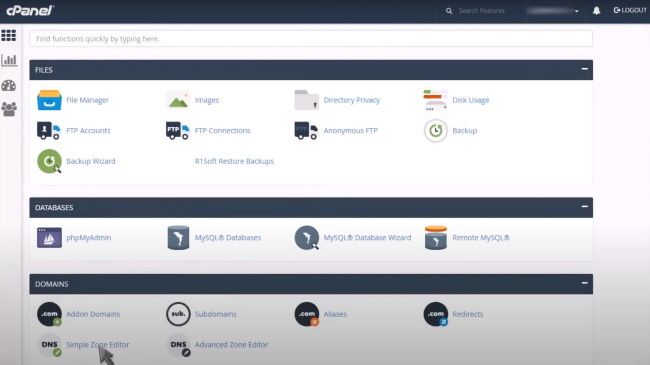 Since HostPapa doesn't support Windows hosting, use Linux-based cPanel, which is intuitive and easy to use even for average users. From there, you'll be able to install WordPress in no time using the Softaculous app installer. The same goes for hundreds of popular apps like Joomla or PrestaShop.
At least HostPapa offers a basic version of its great drag-and-drop website builder with all of its plans, but there is a catch. This product is only offered to users whose domains have been registered with HostPapa. If you've already registered another domain, you'll need to transfer it to HostPapa or sign up for a new hosting plan before using a website builder. Unfortunately, if you have multiple domain names in your account and you want a website builder with each of them, you have to pay for each instance of the website builder individually.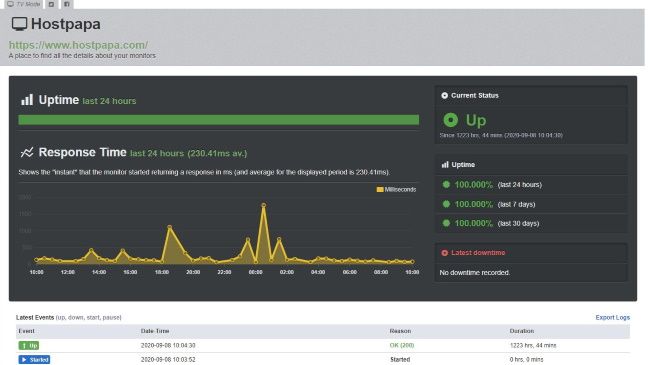 Speed ​​and experience
A repeated GTmetrix speed test on the main HostPapa website gave us cause for concern. The full page load took a whopping 20.8 seconds compared to the average result of 8.0 seconds and 253 requests compared to an average of 88. Unsurprisingly, GTmetrix decided to speed the website with a fixed F (34% ) to rate. To be honest, the test of GTmetrix on the HostPapa website is not the sole determinant of the speed of your future website, but a step in the dubious direction.
On the positive side, an availability test via UptimeRobot, which was run for over a month on the main HostPapa website, showed no trace of downtime and showed few major fluctuations in response time. Given that HostPapa guarantees that availability will never drop below 99.9%, we can only confirm this.
support
If you hit the Support button on the HostPapa landing page and then head over to the Customer Care Center, you'll see some (and definitely more than we usually see) self-help services that have been running properly.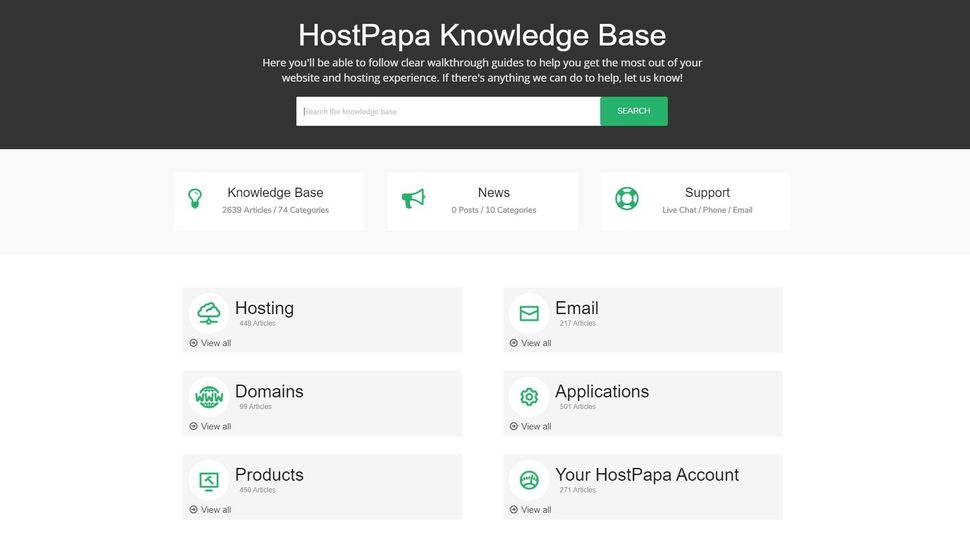 The knowledge base contains a remarkable 2539 articles and 74 different categories. As far as we can tell, their quality is very easy to understand, educational, and helpful, and covers various potential questions, concerns, and issues.
In addition, HostPapa offers video tutorials, network status information, and options for writing an email, sending a support ticket, opening a live chat, or calling the support team. Both chat and phone support are available around the clock.
There are also free weekly webinars and 30-minute one-on-one training sessions that are sure to deserve praise.
HostPapa does not currently have an official forum, but given the level of support they offer their users, this is not a significant issue.
The competition
HostNoc is a Canadian web hosting company that, like HostPapa, offers global customers a wide range of comprehensive and adaptable hosting solutions at affordable prices. While HostNoc does daily free backups and constant security monitoring, HostPapa adds free domain registration to all plans. Since both competitors appear affordable, trustworthy, and reliable, the choice can be a matter of personal preference.
If competent customer care is an important factor for you, both HostPapa and Hostgator meet the criteria. However, when it comes to hosting plans, Hostgator provides a free SSL certificate to every user, while with HostPapa you have to pay an extra cost for it.
Bluehost is another strong rival to HostPapa and one of the most popular global hosting options. However, Bluehost does not offer reseller hosting as an option, while HostPapa does. So if that is what you are looking for, the choice is clear.
Doteasy is another Canada-based provider dedicated to providing high quality, yet affordable hosting solutions to international customers. Unlike HostPapa, Doteasy offers monthly billing for shared hosting plans. Unfortunately, they are quite expensive and do not come with a money-back guarantee.
Final verdict
The main benefit of choosing HostPapa as your host is value for money. It offers a decent range of hosting options, some attractive features (like a starter plan that supports two websites), an excellent range of self-help options, and pocket-friendly pricing. If you're looking for an equally affordable host that doesn't force you to compromise on hosting options or features, you can't go wrong with providers like Bluehost and Hostgator as alternatives.
Source link : https://www.techradar.com/reviews/hostpapa