When we think of Amazon, the juggernaut of an online retailer, a photo sharing service is probably not the first thing that comes to mind. After all, those Amazon Prime trucks driving down the street leaving boxes on porches don't quite convey cloud storage for your pictures.
While this may not be the obvious choice for a cloud storage provider, you should be aware that Amazon makes most of its profits with Amazon Web Services (AWS) rather than the more consumer-centric online marketplace. After all, Amazon is the leading cloud provider with 32.4% of the market since last year.
Pricing
Amazon photos This is good business as there is a 5GB free tier available to everyone. This is a great way to test the service and may be enough for users with more modest needs. On top of that, there is an additional 100GB of storage at the price of $ 1.99 (£ 1.43) per month, which is no coincidence the price of Google Photos.
Amazon generally takes good care of its Prime users, and it does so here too. These people get unlimited photo storage at full resolution as well as 5GB of video storage as an added benefit of the Prime subscription.
A couple of details
Although the name of the service is Amazon Photos, we think it's a plus that it can handle both photos and videos, which adds to its versatility. Unlike some competing services that compress images to a lower resolution for space reasons, Amazon Photos keeps the image at full resolution.
The advantage of a cloud storage service is that you can easily access all of your devices. When it comes to the cross-platform support category, Amazon comes through with a web browser, special software for the Windows desktop, an app in the Google Play Store, and an iOS app. Unlike most other photo cloud storage services, and unsurprisingly since this service is from Amazon, FireTV is also supported.
One partner
Some cloud storage solutions entice you to work with multiple partners to print photos, create keepsakes, or create photo books. Amazon Photos only has a single partner, however, and it's not hard to guess that this is the online retail giant you may have heard of, better known as Amazon. At the very least, it offers a lot of options that more basic services don't, like wall décor, photo cards, and table decorations. Finally, they quickly point out the free delivery for the Amazon Prime members, and it becomes clear what the goal of this affordable service is.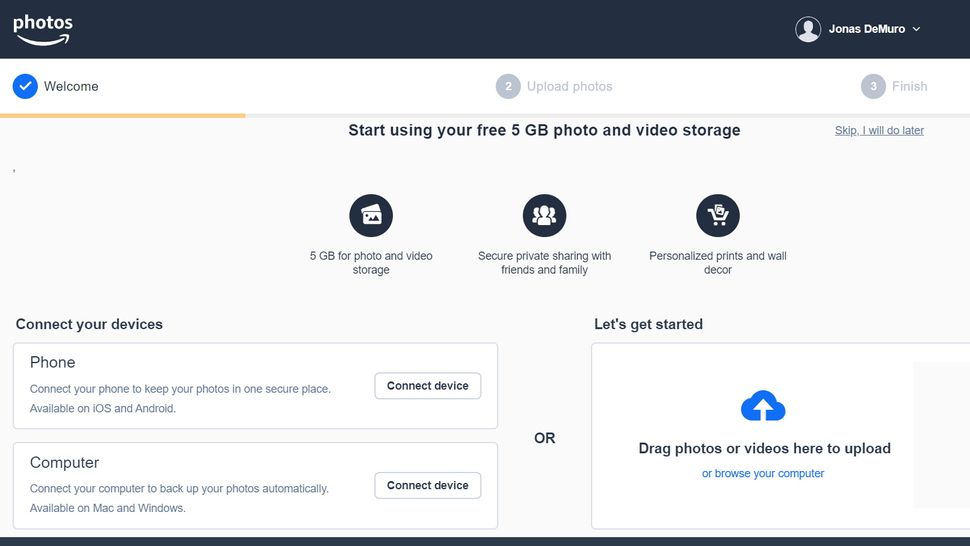 links
To get started with Amazon Photos, you need to upload some images. In the "Set and Forget" mode, the "Connect devices" function is used. To connect your phone, users will be directed to the appropriate app, iOS or Android, or a software download will be provided to connect the computer. This allows the device to automatically upload the images to the Amazon Photos account, which makes the backup automated and easy.
For users who do not wish to commit in advance, there is also the option to proceed through a web browser. Photos and videos can be uploaded via the web-based interface. It says that photos or videos should be dragged here for upload. "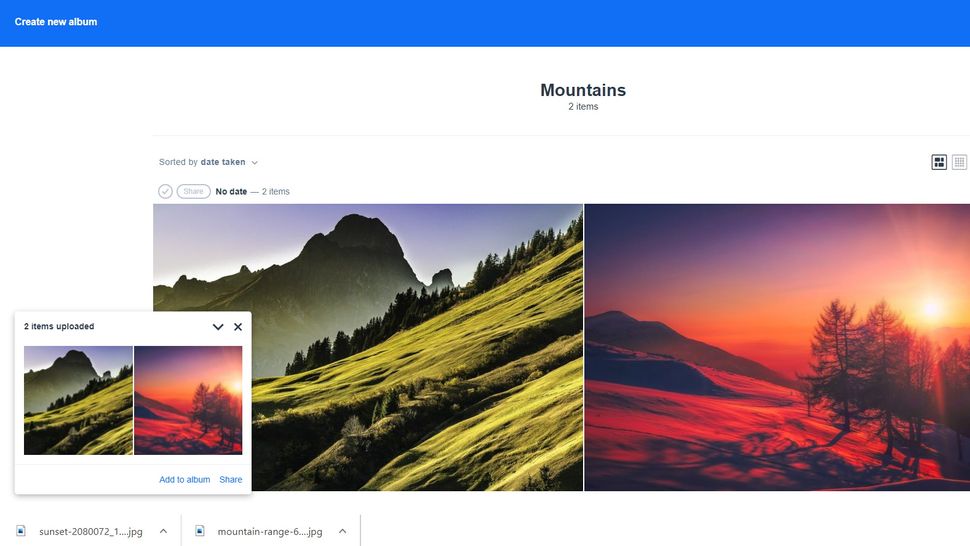 Once images have been uploaded, you can put them in an album. In this way the images can be held together and grouped e.g. For a recent vacation or an event such as a birthday. The album can then be named, as in our example the album was named "Mountains" and the "Save" button was clicked.
Once the images are uploaded and the album is created there are a few options, although we were less than impressed. There are options for viewing the images that range from a small stamp size to a larger size that is more suitable for viewing, and two sizes in between the two extremes. The sorting tools are simplified and only offer two options: Uploaded Date and Captured Date. We would have preferred to see more sorting options, e.g. B. by faces or by location data.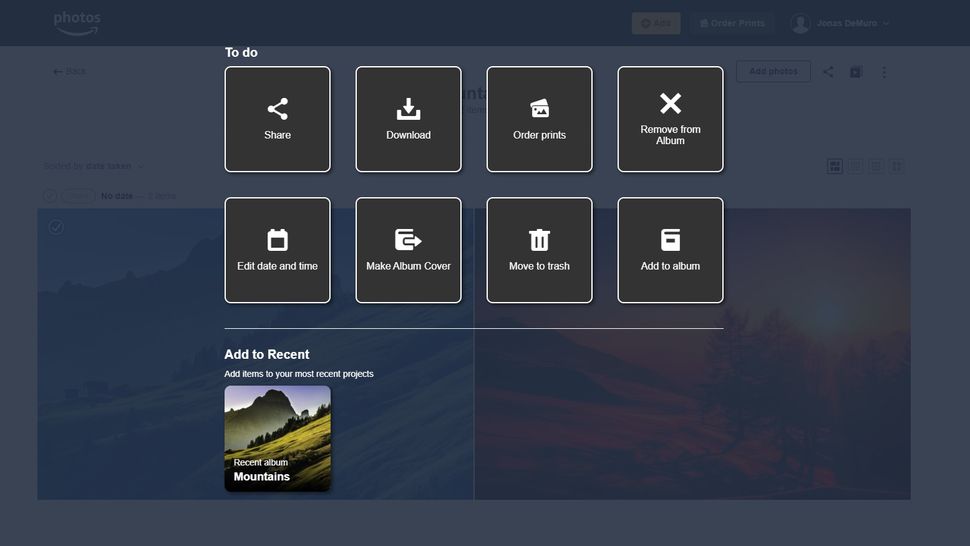 The picture can be set as a favorite picture in the album. The other option is to simply select it to work with. However, we will advise you that there is no way to edit the image at all. While we can accept that web-based editing tools are generally intended for more basic purposes, it helps to have some basic functionality such as: B. Rotating or cropping an image, but these are not provided. Rather, it is possible to download the image, delete it, edit the date and time or add it to an album. Eventually, the Amazon products are pushed forward again, with the option to order prints on top and in the middle.
Final verdict
Amazon Photos is a cloud storage tool for backing up pictures and videos. Its strengths include the free tier with affordable prices, the ease of creating albums, and the apps that are available. However, some weaknesses to consider are the lack of basic editing tools, the few image sorting tools, limited partner options, and the drive to sell Amazon services like photo prints. For users who like Amazon products and have a Prime account, it is certainly worth a look, but find that there are better options out there that will provide better functionality for most people.
Source link : https://www.techradar.com/reviews/amazon-photos/